Welcome to Rely on Horror's new Take Ten monthly feature, where we gather up ten horror games that revolve around a theme. This month, we are taking a trip out to the world of cotton candy and roller coasters. Amusement parks, fairs, and carnivals are the basis for generations of wonderful memories. They represent pure, wholesome enjoyment, a distraction from the troubles of the world. As with all things pure and innocent, horror developers have had a blast crashing the party. Here are ten games featuring parks gone terribly wrong to get you in the mood for some fall fun.
1. The Park
The worst feeling in the world for a parent is the moment your child slips away from you and you realize that they are no longer in your sight. The Park capitalizes on that dread, sending players on a feverish hunt for a child who has dashed into an amusement park as it closed for the day. There are much more sinister forces at play here than the shadows of dusk, pitting a young mother against circumstance and self in a bid to save her child. This indie offering is a barrel of monkeys from start to finish, and players can expect to spend a couple of hours exploring the nooks and crannies of The Park for clues. Be sure to stop by the snack stand for a sweet surprise.
2. Until Dawn: Rush of Blood
The creators of Until Dawn are very excited about PS VR. From the time Until Dawn released, they wanted to find a way to create a horror experience that fit into the world they had built while utilizing the PlayStation's VR system effectively. Enter Rush of Blood, their horror-on-rails DLC chapter created especially for VR. Rush of Blood is a fast-paced shooter set on a creepy roller coaster ride, so get ready for some arcade-style fun. You might want to skip the fair food for this one until you're done.
3. Left 4 Dead 2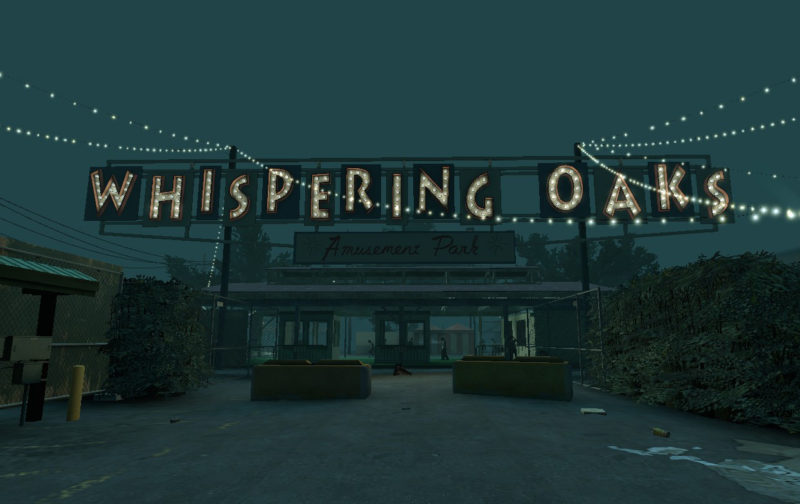 The United States would be the country to experience a creepy clown crisis (it sort of already is). While everyone sorts that out, gun stores are actively advertising "zombie preparedness" kits to capitalize on the zombie craze that is settling nicely into year… seven? It is certainly never boring here in the States, but at least we can rest easy knowing that there aren't any creepy clown zombies. For the dozen or so of you that actually do have a zombie clown contingency plan, there is Left 4 Dead 2. Enjoy using a plethora of weapons to take out the most disturbing zombies in the Left 4 Dead series while making your way across an Whispering Oaks Amusement Park. This is a decent-size level, so pop yourself some popcorn to really get in the mood before you start.
4. Affected: The Carnival
Affected is a series of short horror games, offered for free by Fallen Planet Studios. The three scenes take place in a manor, a hospital, and a carnival. The scenes are full of well-made horror, crafted in Unity 3D for the Oculus Rift. If you've already played acclaimed horror game Purchase a Full-Price Rift and Its Peripheral Accessories, then Affected: The Carnival is a clear choice for you. The level isn't terribly long, but the developers plan to increase the length in a future update, and you get the content for free. When we are talking about a well-made FTP game, you can't really complain. For readers who do not have a Rift, there are plenty of videos on YouTube that you can watch to get the gist of the game, though the feel is really lost in translation. Most of us can pair this one with salty tears, but players who actually own a Rift can pair it with a pickle as sour as the rest of our faces.
5. Sylvio
Sylvio is an indie game set in an abandoned theme park in the United States. The park itself is actually a large national park or nature reserve, with a gated entry that leads to an urban area containing a hotel, small village, amusement park, and zoo. It reads a little more Yellowstone than Six Flags, but the amusement park level is nostalgic and fun. Players take on the role of a paranormal investigator using EVP to record interviews with ghosts of those crushed in a landslide. The real story of Saginaw is, of course, much worse than a landslide. The fair level is the most fun of the game, requiring players to run around and complete games in the abandoned park to receive tokens. The games are wonderfully reminiscent of those found in travelling fairs that visit small towns and schools in late autumn. Grab a cozy sweater and some hot chocolate for this one – you'll need to play through about half of the game before you reach the fair. Sylvio is a personal favorite of mine, so I think it's worth the hassle to play through to the level.
6. Statues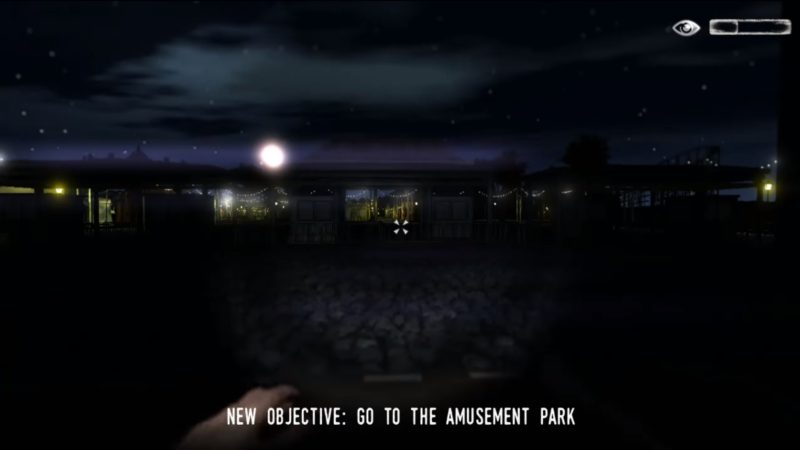 Mannequins are creepy at best, and they're almost never at their best. A simple Google search for "creepy mannequins" can fuel at least a decade of nightmares. The developer behind Statues gets major brownie points for taking that creepy factor and dialing it up by about a hundred in this game's carnival level. In Statues, you must battle against living 'statues', and in the carnival level, you face menacing clown mannequins. You're armed with a flashlight and a hammer, but apparently not with the sense to turn right the hell around at the gate. This level doesn't take long to reach, so pair it with cotton candy and a soda to sweeten the deal.
7. Slenderman's Shadow: The Carnival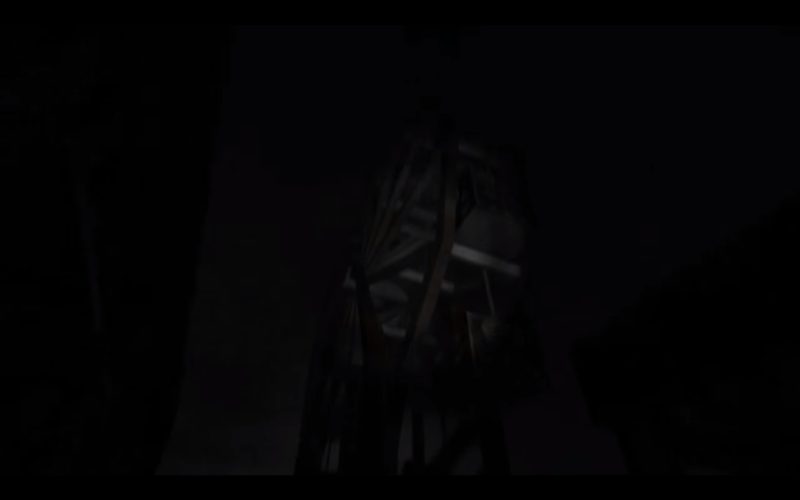 I know, I know. It's Slenderman. The Slenderman's Shadow series of short games is at least among the better Slender clones, though you will have to purchase the whole set to play the carnival level. You play as a man searching a carnival for clues to find his lost daughter. This is one of the more difficult Slendermans's Shadow levels, with a particularly aggressive Slenderman and well-hidden clues. This part is actually fair-ly fun (ha ha), but you can have a couple of festive fall drinks and watch Marble Hornets to get yourself really geared up to play it.
8. CarnEvil
While I will not tell you where to find it, I am going to tell you that arcade classic CarnEvil is floating around on the internet. This game is a rail shooter featuring clowns gone grotesque. The tag line is "The Greatest Show Unearthed!", and that is perfect for the game. Take on killer undead clowns that gamers before you thought they had finally laid to rest. Based on 1968 horror classic Carnival of Souls, CarnEvil is a retro raucous good time. Put your drinks down for this one, unless you particularly enjoy streaming soda from your nose.
9. The Last of Us: Left Behind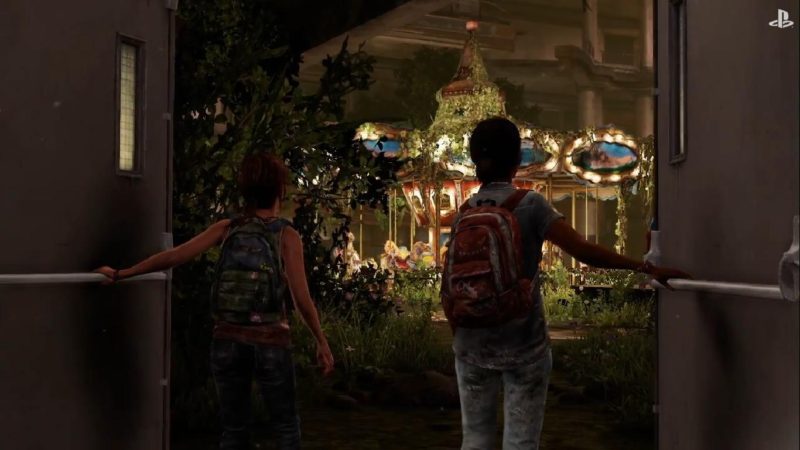 A tiny cheat here to round out the list. Part of The Last of Us Remastered, Left Behind is a tale of navigating young adulthood in the middle of an apocalyptic wasteland. Two teens wander a mall with its own carousel inside, along with several stores providing entertainment like they've never seen. You do get to ride the carousel and play a couple of fun games in the vicinity, but don't get too lighthearted. You will find yourself fighting a horde of enemies before too long. Left Behind pairs well with Kleenex and wine.
10. Silent Hill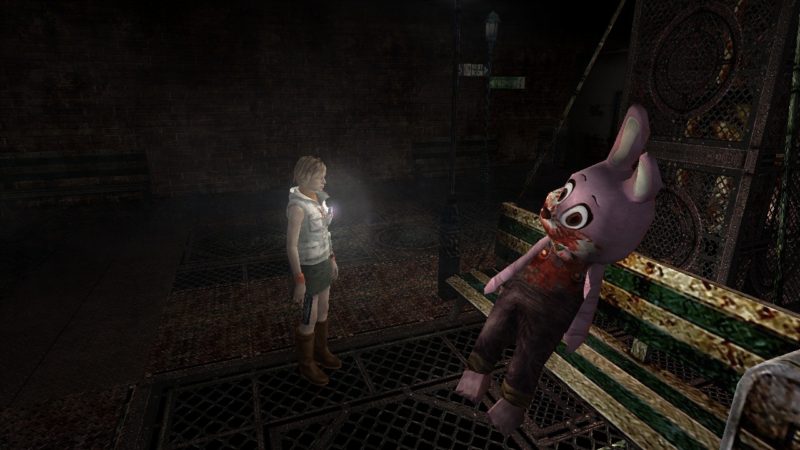 I could have easily filled half of this list with Silent Hill titles. The Silent Hill series has featured its local amusement park several times, each trip a solid reminder that Silent Hill is no place for fun. Silent Hill 3 is my favorite of the bunch, providing a unique setting in horror gaming. Honorable mentions go to the original Silent Hill, as well as its re-imagining, Silent Hill: Shattered Memories. Pair this one with whatever you want this weekend, and head over to our YouTube channel to watch the videos from our three day stream of the Silent Hill series. We took turns playing through the series and chatting with special guests to collect donations for ExtraLife, helping children seek medical care less ominous than that of Alchemilla Hospital.