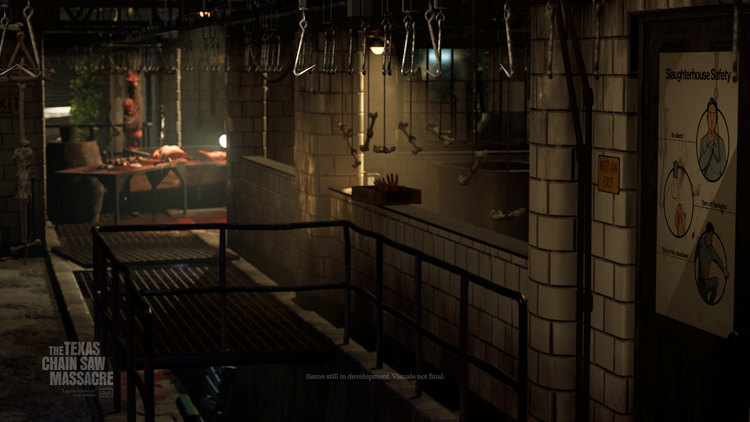 Following the recent reveal of two new maps for The Texas Chain Saw Massacre game, today Gun Interactive released the third new map that will be featured in their upcoming asymmetrical horror title.
Posting on the game's official Twitter account, the developers showed off the layout of the new map:
Last but not least, we have The Slaughterhouse.

This map trades the fields of your average farmhouse and debris littering a gas station backlot in favor of the claustrophobic pens and processing buildings.

Stay tuned for more over on The Hub. pic.twitter.com/hIQ7Mvr8bZ

— The Texas Chain Saw Massacre (@TXChainSawGame) May 26, 2022
What's interesting about this location is that it was never shown in much detail in the original movie. In the film, the wheelchair-bound character Franklin mentions that a foul-smelling old slaughterhouse they pass by is where his Grandpa used to sell his cattle. It's unclear whether the slaughterhouse featured in the new map is supposed to be the same one Franklin mentions, but it's certainly large enough to be.
According to the Hitchhiker, his family's "always been in meat." During a conversation about the slaughterhouse with Franklin after the group of friends picks him up in their van, the Hitchhiker says "I used to work there. My brother did too. My grandfather too." He also remarks that the best way to kill cattle isn't with a big air gun but "The old way… with a sledge! You see, that way's better. They die better that way…With the new way… people were put out of jobs."
The slaughterhouse should make for a nerve-wracking time as players try to maneuver through claustrophobic hallways and gore-drenched industrial equipment. Good old Grandpa Slaughter might even show up to mete out a good old-fashioned whomping with his legendary sledgehammer!
As always, keep it here for more updates on The Texas Chain Saw Massacre game as they happen, and be sure to follow the developers on Facebook, Twitter, and Instagram.