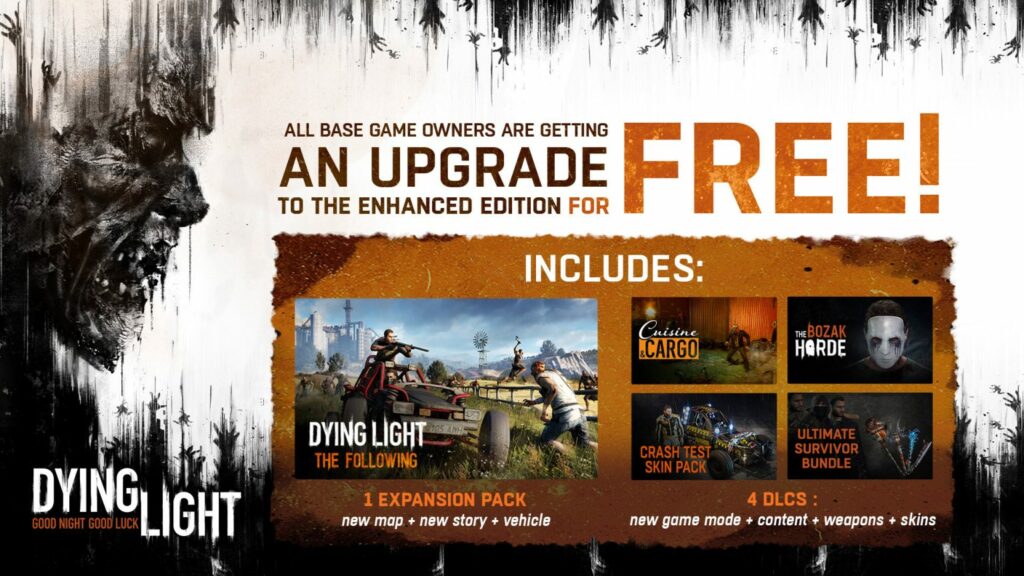 Developer Techland recently announced that all owners of the original Dying Light, the first-person action survival game set in a post-apocalyptic open-world overrun zombies, will receive a free upgrade to the game's Enhanced Edition, which includes the expansion The Following and a ton other of additional content.
Even for those who already own the Enhanced Edition, the new Patch 1.49 still delivers a wealth of new content for the original Dying Light, including new weapons, consumables, and quality-of-life improvements. The Hellraid DLC also gets a final update, bringing a number of tweaks and improvements, including Deathbringer, the one and only firearm available in Hellraid, alongside a reworked armory and new Crystal consumables that offer unique buffs.
Players can also go back in time and unleash the Gut Render chainsaw in the new Dieselpunk DLC and try all the community-tested improvements added to Dying Light's PvP mode, Be the Zombie.
Anyone who owns the base Dying Light game will get the following Enhanced Edition bonuses:
The Following expansion (including a new story, new map, and vehicle)
The Bozak Horde
Crash Test Skin Pack
Ultimate Survivor Bundle
Cuisine & Cargo
The Dieselpunk bundle contains:
Chainsaw — Gut Render (bleeding effect, destroying enemies' armor, high chance for critical damage)
 SMG — Greaser
Saw blade — Flesh Ripper (medium bleeding effect)
New Outfit — Punk'd Beret
New buggy skin — Rugged Roadster (50% slower fuel usage)
And finally, a long-awaited update arrives for the Be the Zombie PvP mode, which balances gameplay and tweaks stats based on years of feedback from Dying Light's community. You can check out the full list of fixes coming to Be the Zombie mode here.
Be sure to follow the Dying Light franchise on Discord, Facebook, Twitter, Instagram, and YouTube to stay up to date on all future updates to Techland's series.
[Source]