Happy Birthday, Amnesia!
Can you believe it's been one year since the release of Frictional Games' Amnesia: The Dark Descent.  From the guys and gals behind the Penumbra series comes one of the most terrifying experiences to grace the PC.  If you haven't played it yet, you should – the horror fan in you will be happy you did.
A few months after release, founder of Frictional Games Thomas Grip penned a blog praising their success and indicating that the company would indeed be making more games.  This is great news, particularly because before Amnesia's release, the company wasn't quite sure of their future.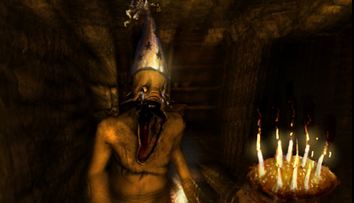 At the one year anniversary of Amnesia's release, Grip again has penned a lengthy blog praising and detailing the success of the game.  A lot of it is a rundown of platform sales.  However it all ends with a nice little nod towards console owners.
Another big change for the future will be consoles.  The main reason for choosing consoles is purely financial . Right now our main income comes from very few channels, and we need to spread out the risk somehow.  The other reason is that we feel we are missing out on exposure by not being on a console.
So about that future project that Frictional is working on?
The basic idea is to use lessons learned from Amnesia and then take it to the next level.  We have mentioned before that the next game will not be as horror-focused as our past ones, but still have a scary atmosphere.  Our intention this time is to dig into deeper and more intellectually demanding subjects.
[Source]