Silent Hill: Past Life Review. 'No better adaptation of the series'
Silent Hill has never quite been adapted into comics successfully. Silent Hill fans had to endure unfitting artwork, horrible stories, and of course cheerleaders… All seemed lost until IDW writer Tom Waltz and artist Steph Stamb approached the series with Sinner's Reward. Waltz and Stamb's jump into the psychological horror series was highly regarded as the best comic adaptation to date. Now with the announcement of a new Silent Hill game, Waltz and macabre artist Menton3 revisit the Silent Hill series. This time Waltz chooses to write the earliest tale known to Silent Hill.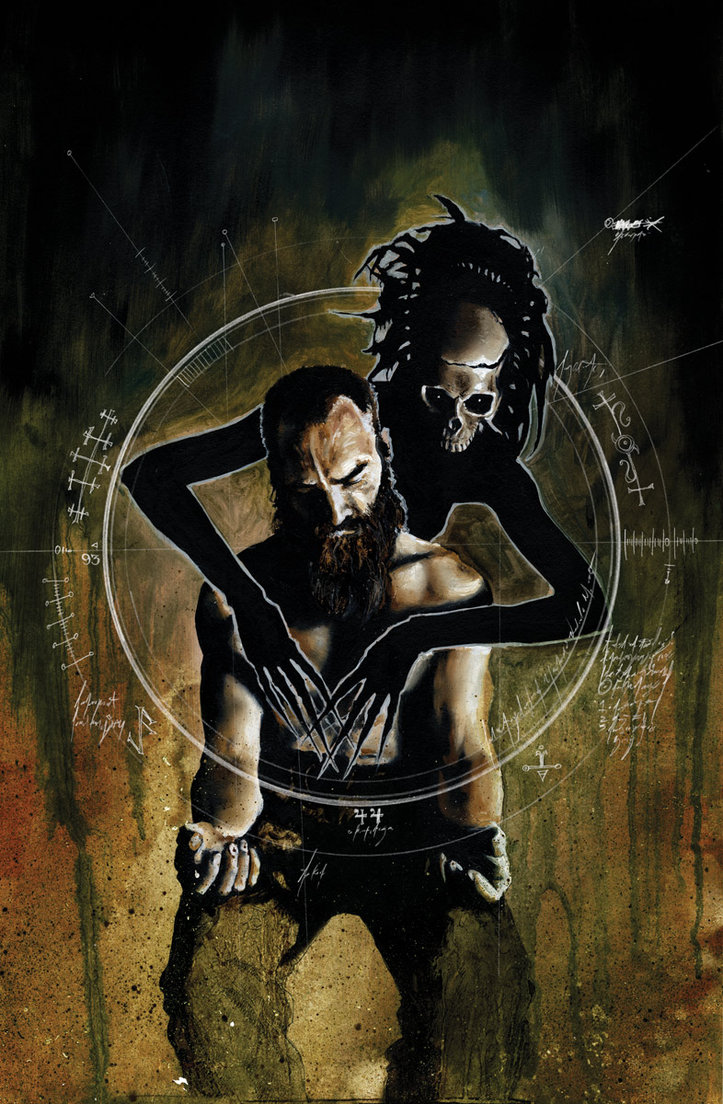 Silent Hill: Past Life spans 4 issues, and follows the tale of a cowboy named Jebediah Foster. Jebediah Foster used to go by the handle "Hellrider". His past deeds were that of horrific murders, thefts, and other nefarious crimes. Jebediah decided to leave that life behind when he marries a kind spirited woman by the name of Esther. Jebediah's tale is one of regret, gluttony and atonement. The year is 1867; the Civil War's waves are still flowing across the United States. Jebediah and his wife Esther decide to leave the Dakota Territory in search of a new life in the town of Silent Hill. Esther had family there, and a home rests on the outskirts of the town in her name. The two decide to come to the the dark town in search of a new life. But what they receive is a life filled with remnants of the past.
Jebediah and Esther make their way to the town of Silent Hill in issue 1. On their journey they meet Howard Blackwood. Howard is the kind but mysterious postman of the town. Upon finding out that Howard is the postman, the married couple is quite shocked due to Howard being African American. Some of you may have realized by now, but Howard is the one character from Past Life that will be appearing in Vatra's Silent Hill: Downpour. After reading the first issue I was left curious as how he survived for more than 100 years. There's even a street named after him which can be seen in the Silent Hill: Downpour E3 trailer. Howard's connection to the town becomes slightly revealed throughout the course of Past Life.
Jebediah and Esther's new home is shambled old place near the woods of Silent Hill. Not long after they arrive they meet an elderly Native American woman named Inola. Her sudden appearance marks the the start of many things to come. While Esther remains home do to her pregnancy, Jebediah meets the town folk. Everyone speaks so coyly that you know something is going on. Tom Waltz brings in some fantastic dialog here. Conversations between characters seem tense, slightly disturbing, and claustrophobic thanks to Menton3's fantastic art style. It rings true to the series's dialog which has always given me the impression that the speech was taking place in a dream. You just want to reach in and scream, "BUT WHY?!" Everyone in the town speaks to Jebediah as if they know him, and Jebediah has no idea why. His past literally comes back to haunt him thanks to the power of Silent Hill.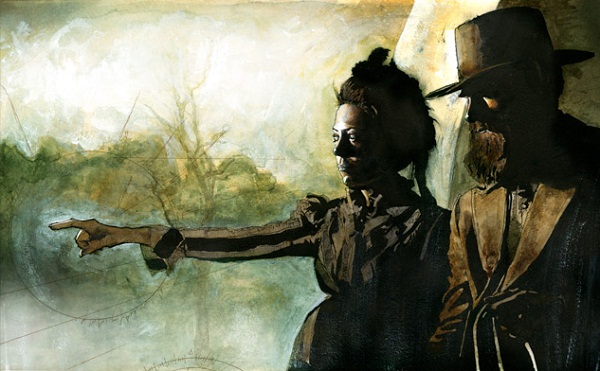 A mysterious force starts to haunt the couple. A slim pregnant figure with Native American mysticism can be seen in the multiple pages just lingering on. Its intentions focused on Jebediah and his wife Esther; more so Esther for unknown reasons. Jebediah receives a "gift" as Inola calls it, which starts the haunting. His previous life was filled with drunken deeds, and his acceptance of the gift only proves that he has not fully left his past behind. Inola, the town, and the dark presence following him knows this well. Silent Hill: Past Life follows the old tale about if whether someone can truly change their ways. This story is amazingly captivating and it has been a long time since a comic has had me clenching its pages.
Tom Waltz has proved himself once again with Past Life; his story requires thought, re-reading, and successfully leaves the audience with questions. Every issue reveals just enough to make me want more, and the conclusion satisfies with a hungry need for more answers. Initially, I was concerned about the Silent Hill series seeing a post Civil War story with a cowboy, but this early tale provides a look at the functions of the town before the traumatic events of Alessa Gillespie. Tom Waltz will also be taking his hand to the Silent Hill: Downpour story, and I can't wait to see how that turns out.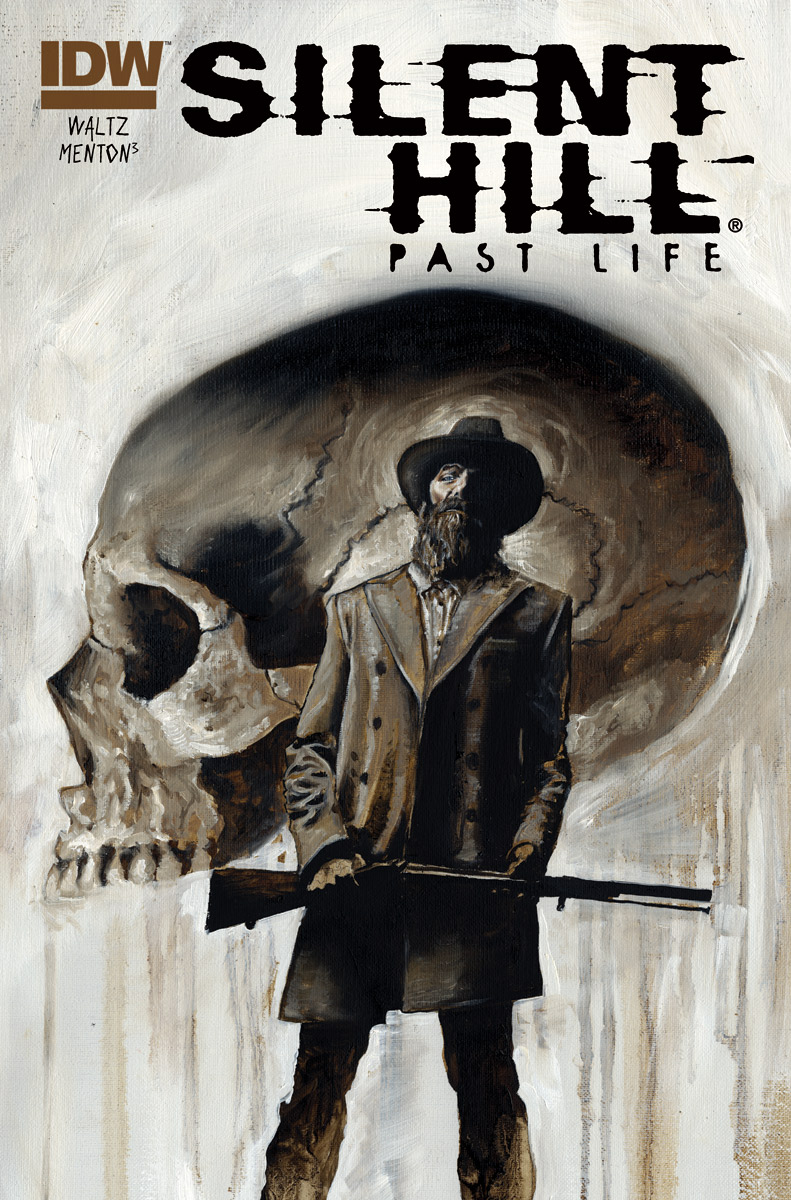 Menton3's macabre art-style incorporates the use of muddying water colors, possibly pastels and staining. The style matches perfectly with the series. Frames are complex yet simple with their design. Faded colors and stains make each page look as if they were also part of the madness the town was creating. Scenes are treated with disturbing care. Reading the pages reminded me of that muddled perception of a dream. Important points are clear, but backgrounds are silhouettes of the real world. As Menton3 himself puts it, his art dabbles with phantasy rather than fantasy. This marks the first time a comic has been so psychological for me. I probably sound crazy myself, but the combined writing and art make for a dream like experience that the early Silent Hill games captured so well. There is a perfect eluding quality to the characters, story, and the art. Silent Hill has never been captured so well in a different medium.
Silent Hill: Past Life is a must have for all Silent Hill fans, old or new. Two amazing men put their talents together to form something distinctly American, but very close to the Silent Hill feel. Tom Waltz and Menton3 both capture the essence of Silent Hill and bring their own spin to the series, and the result is an amazing four-part series that no one should miss. I am going to go so far as to thank these two –as well as anyone else behind the Past Life series- for their contribution to the franchise. I hope to see this collaboration come together again one day. The paperback contains a few extras, so check that version out as well.
10/10