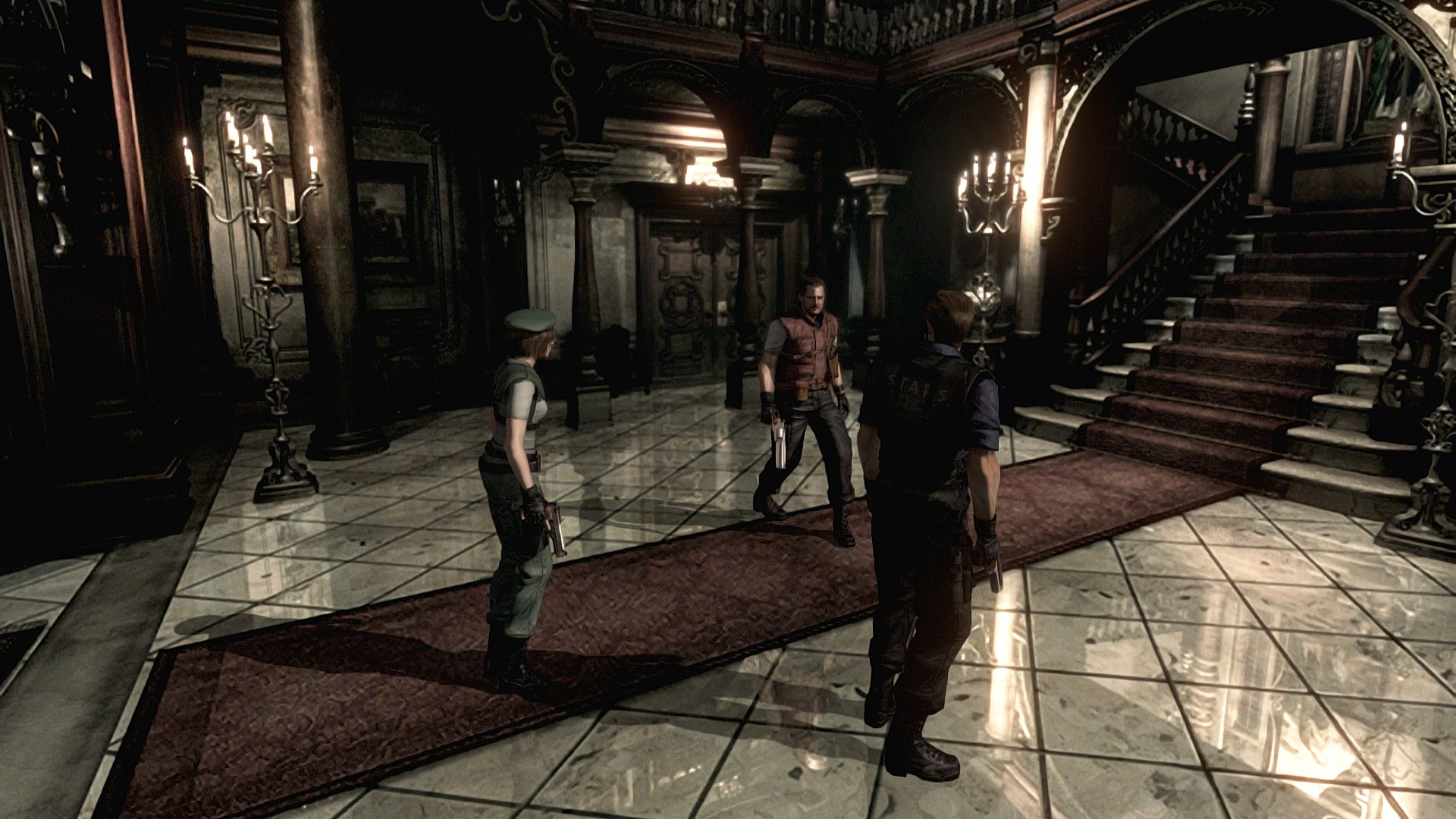 The Resident Evil series has been going through a bit of an identity crisis in a post-Resident Evil 4 world. The numbered sequels that followed that genre-changing title seemed to gear more towards action as opposed to what made Resident Evil a household name in the first place. Well, if you thought Revelations was a step in the right direction towards returning to the series' roots, then you're going to love this latest release. Sure, it's not an original entry, but it's a remastered edition of not just one of the best Resident Evil games, but one of the best survival horror games of all time. Capcom hasn't just taken mere steps, they've gone directly back to where it all started with a remastered version of the Resident Evil Remake.
Originally released on the Nintendo GameCube in 2002, the Resident Evil Remake was part of Capcom's exclusive deal with Nintendo, which gave the publisher exclusive rights (at the time) to Resident Evil Remake, Zero, and ultimately Resident Evil 4. The last of those games was allergic to the term "exclusive," so it went on to rear its wonderful head on the PlayStation 2 and eventually received many ports. Zero and Remake were left on Nintendo consoles, with Wii ports released. Now, an entire sector of horror fans that never owned a GameCube or Wii will get to experience the masterful Resident Evil Remake on either the PlayStation 4 (Reviewed), PlayStation 3, Xbox One, Xbox 360, or PC (touched on by CJ at the end of this review).
I think we all basically know the story by now. Raccoon City's STARS Alpha team flies into the Arklay woods searching for Bravo team after they were sent to investigate the string of brutal murders that had been going on in the region. After finding their crashed copter and being chased by a pack of dogs (Joseph!!!), the remaining members of Alpha team run into a nearby mansion (being left no choice since their pilot decided to chicken out). And this is where Albert Wesker, Barry Burton, Chris Redfield, and Jill Valentine enter the world of survival horror.
When the Resident Evil Remake was originally released, it already looked amazing, having visuals that stood the test of time since then. But now, with this Remastered edition, the visuals are just even more breathtaking. I had already played the Asian PS3 version a couple of months ago, but when I started playing this on the PlayStation 4 I was just blown away. I wasn't expecting it to look this good. The character models are clean and nicely textured (with great attention to detail on the clothing) and the creature designs are even more grotesque than before (like the giant spiders looking even more hairy, sending chills down my spine). I had crowned The Evil Within as the game in recent memory with the most gory headshots, but now I think it's going back to Resident Evil. With the remastered visuals, the gore has received a wonderfully morbid enhancement.
The pre-rendered backgrounds were a big question going into this enhanced version. I'm happy that the team was successfully able to remaster them, with only a couple of sections having a glaring muddy and stretched look (like the aqua ring). The mansion is an architectural beauty, making it a haunting joy to traverse and back-track though all while fending off walking piles of rotting flesh and other Umbrella-created monstrosities. The lighting effects are superb and the amount of detail splattered all around you makes this one of the most atmospheric horror titles of all time, especially when coupled with the game's erie soundtrack. This remastered edition shows today's crop of gamers a perfect example of the genre at its finest. And speaking of today's gamers, Capcom has also included a new method of control that caters to those more accustomed to modern games.
Not only could you change the game's aspect ratio back to the 4:3 mode as it originally was, but you could also change the game's controls from classic to modern. Doing so strips away the tank controls and gives you a more free-moving control set more comparable to recent games, which I honestly didn't like. It really killed the feel of the game and didn't fit it at all. But I do appreciate Capcom giving that choice to gamers who may be thrown off by what they might consider being dated controls. It just wasn't something for me. The other inclusion that may have caused some skepticism at first is the updated camera. It moves with the character as the camera angles shift, to accommodate the new widescreen ratio without losing any screen estate. The camera system works wonderfully and overall, after playing through this a few times, I miss this classic camera style even more.
This game has immense replay value. Not only do you have two scenarios to tackle (as either Chris or Jill), but you also have new game plus, multiple endings, difficulties, and costumes (like this version's exclusive BSAA outfits). Some modes in here will definitely challenge hardcore horror fans, like the real survivor mode which restricts you by taking away the magic of shared item boxes, and the self-explanatory invisible enemy mode. You'll definitely spend hours with this game, even after you go through the initial 10 hours it might take for a first playthrough. The game also has an ending cutscene gallery as well as the inclusion of Wesker's Report.
Resident Evil HD Remaster is a survival horror experience that rivals the likes of modern indie darlings and the few triple A horror games that have succeeded to please genre loyalists (most recently Alien: Isolation and The Evil Within). Fans can now experience what I feel is the definitive version of the game on current-gen consoles and PC, while newcomers can see just how amazing survival horror can get. This also goes down as one of the best remastered editions produced by Capcom. Now, let's hope strong sales for this game result in a remake for Resident Evil 2!
(

9

/

10

)



Amazing
Rely on Horror Review Score Guide
CJ's thoughts on the PC version: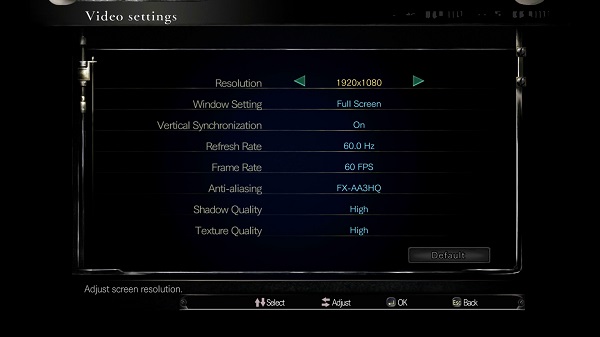 Capcom's support of the PC platform has been pretty good lately, and I've had little doubts in the performance of their games. With Resident Evil 4: Ultimate Edition, fans got a 60 FPS version of the classic game with the inclusion of higher resolution textures. The publisher has also brought the platform Dead Rising 3, a once Xbox One exclusive, as well as Resident Evil: Revelations, its upcoming sequel, a high quality Resident Evil 6 port, and a top notch port of DmC: Devil May Cry. The publisher's support of the platform is genuinely appreciated, and the fact that Resident Evil Remastered is on PC as well makes me giddy inside. But PC ports, especially of old titles, might worry some folks, so I'll be breaking down its features for those curious.
One big difference between Remastered on PC and current-gen consoles is the support for 60 FPS. Now, a higher framerate isn't necessarily needed in a game such as this, but its inclusion doesn't hurt whatsoever. Having played the majority of the game with the FPS at 60, I experienced no detrimental effects. There was an initial concern regarding the game's static video backgrounds being negatively affected by an FPS bump, but I experienced nothing out of the ordinary. One thing I did notice though was that the high framerate, at least to me, complimented the camera panning effect present in the widescreen version of Remastered. I can't put my finger on it exactly, but the end result looks fluid and "lifelike", for the lack of a better word. I guess that can be attributed to the excellent art direction as well.
An additional point worth mentioning for the PC version is of course its visuals. As I expect to be the same on the PS4 or Xbox One, the game's backgrounds vary in degrees of fidelity, with some looking better than others depending on the location in the game. The standout benefit the PC version will have over the console version is the rendering resolution and additional anti-aliasing for character models. I also can't comment on the differences between background quality between, say, the PS4 version and PC, but the PC version's hefty download size might be due to uncompressed images for higher resolution setups.
Overall, the PC version of Resident Evil: Remaster runs quite well, only crashing once for me when loading the leaderboards screen. With anti-aliasing, texture, and shadow settings, as well as a functional M&K setup, the game's transition to PC is great. It's not a massive step above the console versions from what I can tell, but at its core it's a game from 2002, so expectations should be kept in check.