Finally. It's so wonderful to be able to talk about a new Fatal Frame being a Western fan. The original trilogy on PlayStation 2 and Xbox was one of the franchises that shaped the way I feel about horror and the sorts of games I play. I played Fatal Frame 2: Crimson Butterfly even before Silent Hill or Resident Evil, and while I don't play the franchise as often, it's always been the one that scared me the most. After exactly ten years without a new title in the West (other than the 3DS spin-off, Spirit Camera) I am so, so very happy to say that the new title, Maiden of Blackwater, is almost perfect. Almost.
Unlike previous entries in the series, we play as three separate characters all looking for answers, connected by a mountain known for claiming the lives of the suicidal. The game stars Yuuri Kozukata, who has a mysterious power that allows her to be able to pull objects and people out of the spirit world into our reality. Her boss at the antique shop has gone missing, and she has ventured out on her own to find her. Next on the list is Miu Hinasaki, who has gone searching for her lost mother, is the second playable character, and has seemingly no connection to Yuuri. Finally, there's the author Ren Hojo, who is friends with Yuuri. Research for his latest novel is what drives him into the mountains, looking into a mysterious tradition local to the area. The story unfolds like a classic Fatal Frame title, complete with the jarring black and white memory moments that had left me scarred as a teen. It's a great story, and it even has a few connections to the previous titles, although I won't spoil what those are or how much they impact the universe.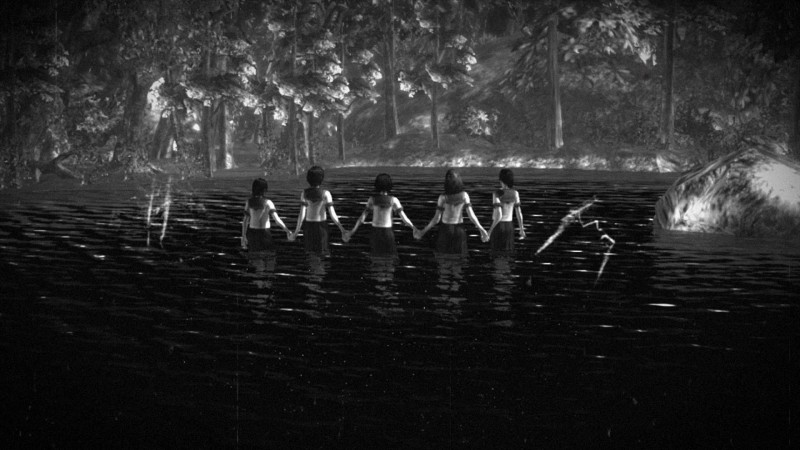 The first thing that will jump out to any fan of the series is how much it sounds and feels like a Fatal Frame game. The menus make the same sounds; the music sounds the same, and the controls are almost identical to the way they worked in the original games. After years of watching Silent Hill and Resident Evil struggle with maintaining their identities while also trying to update themselves to more modern audiences, it's wonderful to jump into a game that's so in love with its heritage. Even the atmosphere from the original trilogy feels perfectly recreated. The pacing was always a huge part of what separated the franchise from its contemporary rivals. A quiet ambiance gripped the horror of the franchise, and the almost glacial pacing is what made me fall in love with it. There aren't many games brave enough to take their time with the story quite the way that the original games did, and it's wonderful to see that recreated again here. No other classic horror franchise has had a modern entry that feels as similar to the original games that we loved.
That said, it's also clear that Maiden of Blackwater has an internal struggle of its own that conflicts with its classic sensibilities somewhat. Nothing that ruins the experience or completely gets in the way of the classic feel that this game absolutely achieves, but there are a handful of issues that seem almost mandated by some desire to feel "modern." But we'll get into that later on.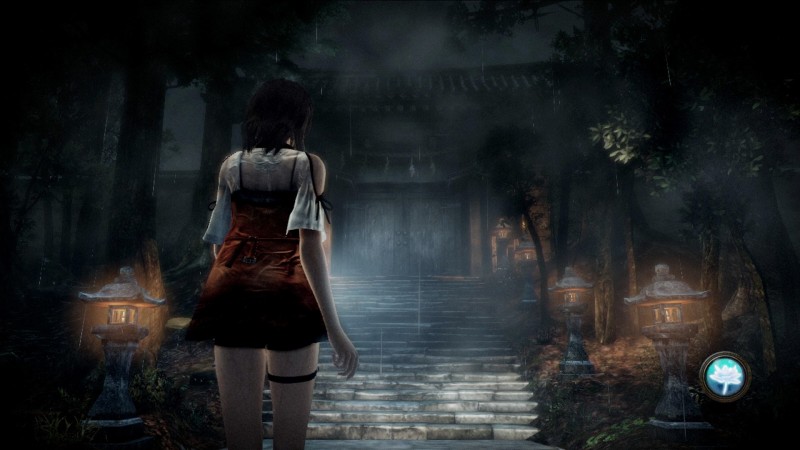 The game is stunningly beautiful. Being the first HD title in the series, it's clear that Koei Tecmo went all out on the design and atmosphere. It drips with the stuff, and the character models are all sharp and well detailed, especially as they become wet, their hair becomes shiny and the thin Japanese style clothes become see-through. This  leads into one of the game's new mechanics, the "wet" system. There is now a water meter that will fill up the more drenched you get. The soggier you are, the more hostile and plentiful the ghosts become, not unlike Silent Hill: Downpour. The colors are also deliciously vibrant, warm oranges and reds with cool blues and greens – it's a joy to look at after so many years of horror games set in nearly pitch-black environments. Every area feels rich and full of life – or death, as the case may be. I'm happy to have bought it just for the chance to look at it alone. The ghosts themselves are also a lot more detailed than they were in previous entries, adorned in ornate headwear and richly patterned kimonos. It's a big step up from the washed-out gray/white blank look that the spirits had in the previous games. At best, we could hope for a splash of blood down the ghosts' front before, but now each one is as rich looking as the world they inhabit.
The major draw here is controlling with the WiiU's gamepad, which is the only option (unlike other WiiU games, original Wii remotes or even the WiiU Pro controller aren't compatible). This is due to the Camera Obscura now being controlled with the WiiU gamepad's motion sensing technology. You use the screen in the gamepad to look around, and it will display information such as health and the level of attack you're dishing out on your ghostly opponent. The effect of having full-motion controlled aiming with the gamepad is surprisingly great and ends up adding a found-footage effect to the combat as your hands naturally shake and jostle the camera as you attempt to find the ghost's weak spot. I always found the combat panic inducing in the original games, but this new motion controlled angle spices it up and makes it feel like a much more panicky ordeal each time. Otherwise, it by and large controls exactly like the older games. Holding down the run button will move the character forward regardless of touching the analog stick, the menus are laid out and function exactly the same, and the camera can be upgraded with points scored from exorcising the spirits with your Camera Obscura. And additional lenses that increase your camera's powers and abilities can be switched out manually during combat.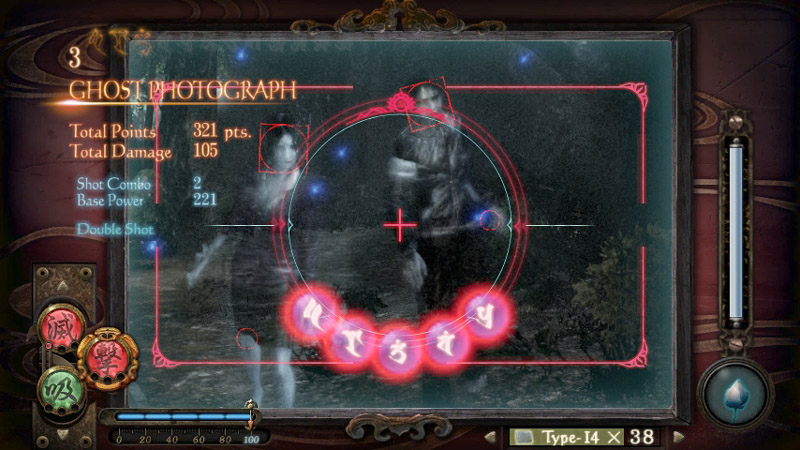 This is where the first of the "mandated" updates comes in, a "trace" memory that you follow to your next objective. Similar to Dead Space's objective waypoint, you can hold down a button to see a "memory" of where the person you're looking for has gone, and it feels amazingly condescending. I will at least give it credit for being optional, but it makes the world feel much smaller than it actually is and occasionally the game will even lock off other areas, with your character stopping short if you try to go off the beaten path, exclaiming "I don't think they went this way" and turn back around. This combined with how obvious items are in the world makes the game feel a bit more like traveling along a rail than exploring a world with branching paths at times. It does remove this "trace" every now and again, leaving some areas open for you to explore, but I mostly just wish it wasn't here at all.
Now, with that said, there are plenty of open areas that you can explore, and this leads to easily the best thing about the game. First of all, if you recall the building in Fatal Frame 2: Crimson Butterfly filled with dolls, you will be in for a frightening treat. Early on in the game we encounter a shrine that is brimming with the things, and it's intensely creepy, invoking memories of Condemned's famous mannequin sequences. Exploring in this area (which is one of the places that removes the trace mechanic) is claustrophobic and full of things that are sure to make your skin crawl, and I loved every moment of it. The game absolutely knows how to pace out jump scares as well as ambient creepiness, and it gives off the feeling of a veteran of the genre-cracking their knuckles and saying, "I'll show you how this is done, alright?". I loved it, and it made me feel like I was back playing one of the classic horror games from the PS2 era. Trust me, when this game wants to get under your skin, it will.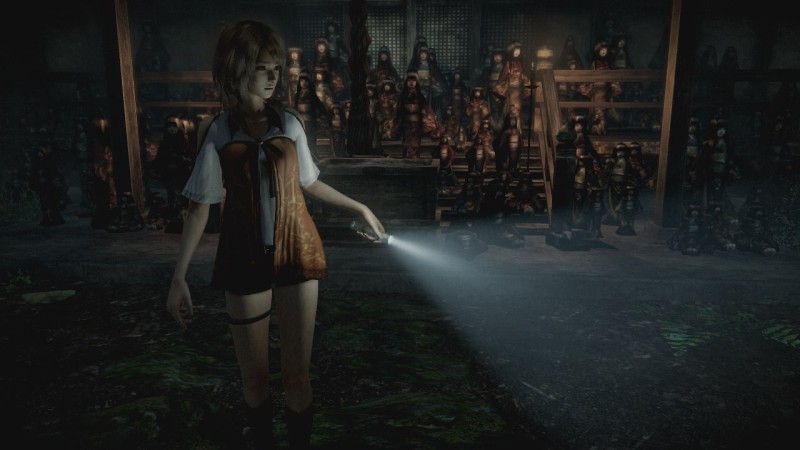 The biggest snag that this wonderful mood and pacing hits are the game's frankly flabbergasting chapter set-up screens, which breaks up the flow every few hours and fills in gaps with text. Popularized by games like Resident Evil 4, the game will reach a chapter break and give you the chance to save your game as well as bring you to a … store of all things, where you can spend points to acquire items. It's the exact same problem Resident Evil 5 suffered from, and it removes every drop of tension that the game has built up. It's a baffling decision for something as slow and deliberate as Fatal Frame. Not to mention, the store offers everything you can find in the game for sale – from more powerful film for the camera to medical herbs and even the freaking Mirror Stones, which are used to revive you upon death without being booted back to your last save. These objects were so few and far between in the original games, and you could only hold one at a time. I know you don't have to buy these things from the store, but the option being there at all ends up feeling like the awful Final Fantasy Mystic Quest, which watered down the RPG gameplay from the main titles for western audiences. The chapter breaks and store don't ruin the game, of course, but it does cheapen the experience somewhat to know that there will always be a safety net for you.
The other issue these unnecessary chapter breaks create is that it unnecessarily pads out the gameplay. Back-tracking and re-exploring previous areas is pretty much a staple of old survival horror games, but this game will start you over again back where you were at the beginning of the last chapter, forcing you to trek all the way through previously explored areas for no reason at all. There will occasionally be short sections where the characters return to their homes, and you can explore those, which aren't too dissimilar to Rei Kurosawa's house in Fatal Frame 3: The Tormented. But by and large it feels like meaningless padding and often begs the question as to why in the hell exactly these characters are willingly going back to these super haunted areas. I'm sorry, Camera Obscura or no, if I managed to get out of a place like that alive? I wouldn't be going back the next day. Compared to the previous entries where the characters were trapped in these places, it makes the characters feel remarkably stupid.
All that said, however, it still doesn't detract too much from the wonderful mood and world this game creates, it's just annoying. I still stand by this being one of the best classic horror experiences in recent memory. If Resident Evil and Silent Hill were doing better these days, it might not have been the case with so many obviously bolted on mechanics to decrease the difficulty and hold the hands of the players that were unfamiliar with the franchise. Which, let's face it, hardly anyone in 2015 is going to be picking up the digital-only Fatal Frame if they weren't already familiar with the franchise. I don't have any proof of this, and I could be totally off base, but let's just say it's some gamer intuition; I get the feeling this game was originally without the chapter breaks and store system, perhaps in an earlier version pre-launch, but Nintendo (out of fear of stumping newcomers or trying to make it more accessible in general) mandated that these new, easier mechanics and elements be bolted on to what was already there. It feels very similar to the awful hint stones from The Legend of Zelda 3D titles that basically just tell you what to do. Maybe these additions will make it easier for newcomers, but considering it's a Mature rated title and a sequel to a fifteen-year-old franchise, it feels patronizing and unnecessary. I'll give credit to the way the game is sold, however. You can download the first hour or so for free, and play it completely unhindered, and then purchase the rest of the game if you so choose. It's smart for a new entry in a series that's been so long without one, especially considering the jump from PlayStation to Nintendo.
Despite all the small annoyances with difficulty and the chapters breaking up the pacing, I really must stress how good this game is otherwise. I feel like I should be harsher towards it for its obvious missteps, but conversely believe that would unfair of me to let those negatives get in the way of how much good the game does otherwise. It's honestly like going back in time to that classic period of horror games on the PlayStation 2. So many elements of the original Fatal Frame games have come over intact; it's a freaking joy to play in this day and age. Horror games have, by and large, become either first person stalker type games (Slender, Alien Isolation, Outlast) or action games wearing the skin of a horror game (Resident Evil, Dead Space). It's a breath of fresh air to play something that feels like a survival horror game of old. With locked doors and slow pacing, and exploration that actually feels rewarding. Yes, there's modern elements clumsily stitched into its fabric, but trust me, it's the closest to the horror games of old we've gotten in years.
(

8.5

/

10

)