American Horror Story: A Review So Far
One thing that you don't see often on television is horror; there're the usual sit-coms, cop dramas (oh,how there are cop dramas) thrillers or action shows, but horror has often-times taken the back burner when it comes to television shows.  That's not to say there haven't been horror shows gracing our TV's with their presence, let's not forget greats like "Alfred Hitchcock Presents," or the roots of "The X-Files," and obviously the ever-recent "The Walking Dead," which has gained a good amount of momentum.  "American Horror Story" is different though as it plays on many emotions that horror is best-suited to evoke, dealing with gruesome storytelling, a dysfunctional family and of course the staple in all great horror films: sex.
This FX original series is just getting off the ground, what with eight episodes under its belt and it keeps getting more interesting and seems to draw in more viewers with every new episode.  With its star-studded cast of Dylan McDermott, Connie Britton, Jessica Lange and a growing group of others that add to the story, i.e. Zachary Quinto and Christine Estabrook, etc., "American Horror Story" (AHS from now on) has a lot going for it.  It is simply a breath of fresh air when compared to the extremely oversaturated "horror" that American films have been doling out at regular intervals (I'm looking at you, "Paranormal Activity"). 
Following the Harmon family, (McDermott and Britton's characters) "AHS" takes us to Los Angeles as they move from Boston to start fresh after a string of bad family issues (no spoilers here) that threatened to tear them apart.  While that concept may be a tad cliché of horror, "AHS" is full of surprises, so it was smart of them to get any formulaic plot-points out of the way right out of the gate.  With every passing episode, more of the story is unraveled and sense is to be had, but with those realizations come more questions and mystery.  New characters are introduced almost systematically, deepening the already dark and twisted plot, and demanding the audience's attention.  
One of the great things about this is that it proves that a story can be frightful and enjoyable without gallons of blood.  Where it's lacking in gore, however, it more than makes up for in sex, suggestive themes and not-so-suggestive themes (I'm talking things I didn't think you could get away with on TV).  Don't get me wrong, it's not tasteless smut, it is all story-driven and plays a big role with the characters' back-stories.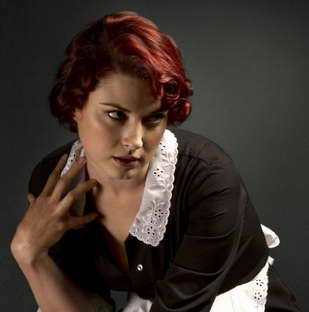 There is so much to love, (including an elusive "Rubber Man" who reminds me a little of Pyramid head in terms of mystery).   I highly recommend this show to anyone in the mood for a refreshing, sans cookie-cutter horror story.  Be sure to catch it every Wednesday on FX at 10:00/9:00 central.  I will be writing individual episode guides to catch anyone up!  Keep checking back!
Score so far: 10/10