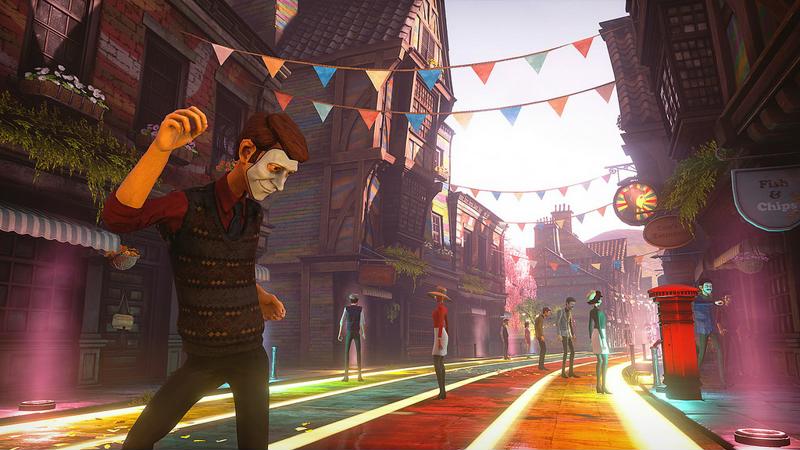 Developer Compulsion Games is partnering with Gearbox Publishing to bring manic horror-adventure game We Happy Few to PlayStation 4 next spring. Gearbox previously published Duke Nukem 3D: 20th Anniversary World Tour, Bulletstorm: Full Clip Edition, and Fortnite, and it will be adding We Happy Few to its lineup on April 13, 2018.
Unsettling and psychedelic, We Happy Few takes place in an alternate timeline version of the 1960s, in a town where citizens rely on literal happy pills dubbed "Joy" to keep them from remembering their tragic history. You'll play as three characters with distinct playstyles in a procedurally generated world "populated by colorful, complex characters and rich questlines."
The game has been in Early Access for the past two years on both Xbox One and Windows, but April 13 will mark its full release, which will come with a hike in price. Whereas the Early Access version cost $30, the full version will be available for $59.99 both physically and digitally on PS4 as well as Xbox One and Steam. The good news is that if you preorder, you get 15% off plus an in-game parasol that can be used as a weapon, called the Jolly Brolly. A PS4 preorder gets you an exclusive dynamic theme made by Truant Pixel to go along with your dynamic parasol.
There's also Deluxe Edition that comes with a DLC Season Pass promising three pieces of additional content to be released in the future. And if you're manic about We Happy Few, you can put down $149.99 for the collector's box set filled with some pretty neat stuff, including:
Replica Bobby Mask
The "You Look Smashing" 3-Tiered Lamp
Uncle Jack Alarm Clock
We Happy Few Soundtrack on Vinyl
And more!
This is big news for We Happy Few as its details are now set, and we can look forward to seeing what its full version has to offer early next year. For now, have a look at the creepy—but groovy!—announcement trailer.