Valtiel and Claudia in Silent Hill: Revelation set pics
An IMDB user has posted up new set images from the upcoming Silent Hill: Revelation film. Supposedly the images were from the producer of the film, Don Carmody.
A few interesting things worth mentioning have been shown. For starters, it looks like Valtiel, the attendant of God, will be in this film after all. Previous set images had shown the return of Pyramid Head. A  few people, including myself were worried that he would be replacing the role of Valtiel.
Valtiel was an awesome creature in Silent Hill 3; his presences was limited to the background, but he was incredibly disturbing. Hopefully he will be seen playing with valves in a similar fashion as in Silent Hill 3.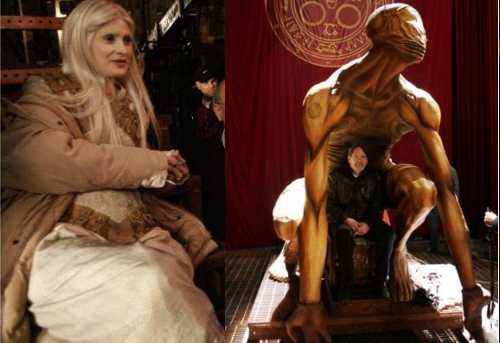 Next up is Carrie Anne Moss in her full Claudia Wolf outfit. There are some big differences to the Claudia seen in Silent Hill 3, so I'm a bit hesitant to say I like this version, but of course it will all depend on her performance. Revelation Claudia seems to be a big fan of white. Her clothing seems very Queen-ish, and instead of no eyebrows, they are just very pale. You would think Carrie Ann Moss of all people would be perfect for a wardrobe consisting of mostly black.