Things Get Chaotic In The New Black Ops 4: Zombies Trailer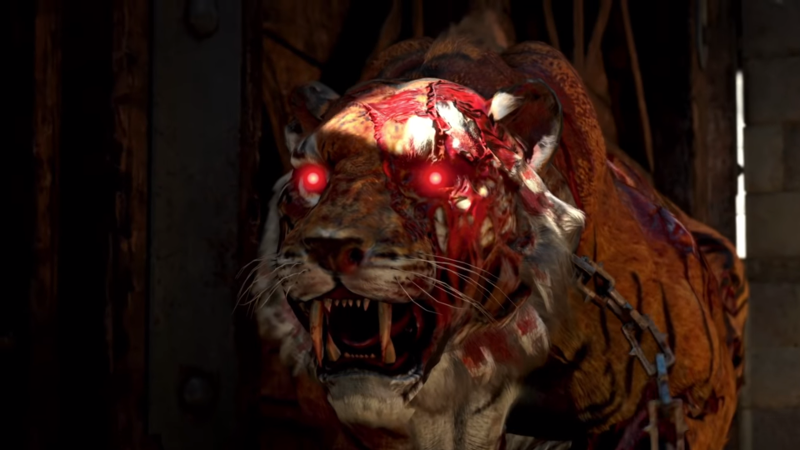 Treyarch recently dropped the first trailer for Black Ops 4: Zombies since its initial reveal at the official Black Ops 4 Community Event. This one is dubbed the 'Chaos Story Trailer', and it is centered primarily around showcasing the various gimmicks the two of the new maps, Voyage of the Damned and IX have to offer.
Treyarch meant it when they used the word 'Chaos'. Aside from the constant action, a plethora of new weapons are on display. They got mechanical whip-swords, laser guns, magical grenades, and even glowing shurikens, some of which actually look like fun to use. Oh, and yes, that is indeed a tiger in the thumbnail.
My guess is that the zombie tiger will act similarly to the Hellhounds from earlier installments, appearing as the sole monster in a few dedicated waves before being integrated with the rest of the zombie hordes. Given Treyarch's fondness for 'tanky' enemies, I doubt we will see more than one or two tigers appear at any given time. Considering the setting of IX, the 'special waves' will likely enter through the various metal gates, comparable to how Roman Coliseums worked in the real world.
As for story content, this trailer mostly just serves to recap everything presented in the initial trailer. The only real new information is that we know that after the Voyage of the Damned map, the characters will enter IX via time travel. If you have been a fan of what Treyarch has been doing with zombies for the last several games (higher focus on easter eggs, and a high fantasy storyline) then you'll likely enjoy what you are seeing here, but if you are like me and want a more grounded and minimalist experience then don't hold your breath.
You can view the trailer for yourself below. What do you think about Black Ops 4: Zombies? Let us know in the comments.