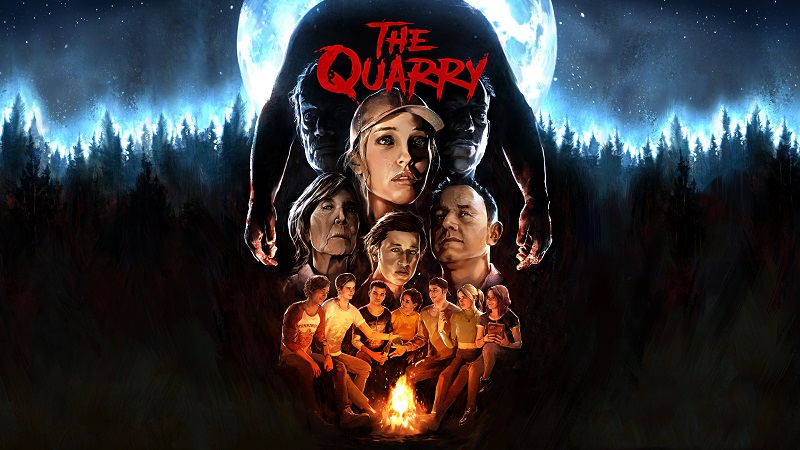 Supermassive Games, the creators of Until Dawn and The Dark Pictures Anthology have just announced their first new project from outside The Dark Pictures Anthology series since 2018, titled The Quarry, which will release on June 10th.
The game will be published by 2K games instead of their long-running partnerships with Sony or Bandai Namco, so it'll be interesting to see how this change may affect the game. Regardless of the publisher, it looks to be continuing Supermassive's trademark quality narrative experiences with a slightly higher budget and better technology than before.
The trailer released this morning shows tons of details of the game and its story, which is set to involve a story of a curious car accident, a quarry, mention of being new counselors at a Summer camp, and a 1980's style slasher film aesthetic to top it all off. These details are giving off some extremely strong Friday the 13th, Madman, or My Bloody Valentine vibes so far, with some elements of the "wilderness horror" genre as well, akin to things like the Wrong Turn series, and I am 100% in. The game boasts 7 player co-op for the online mode and will let you play with up to 7 of your friends from anywhere in the world to survive the night together.
On top of the story teases we get from the trailer, it also showcases the huge ensemble cast of actors taking part in the project, and it's got a hell of a pedigree of actors from across the spectrum of horror. Names like David Arquette (Scream franchise,) Ted Raimi (Evil Dead, Candyman,) Lance Hendriksen (Alien, Pumpkinhead,) Grace Zabriskie (Twin Peaks, The Grudge,) and Lin Shaye (Nightmare on Elm Street and Amityville series), are among many other fresh-faced younger actors who play the nine counselors involved in the story.
We've generally loved the grandiose and large-scale settings of the Dark Pictures games so far, but it'll be great to see a return to a more personal, slasher-style game if The Quarry lives up to what it's promising. It seems this may finally be the follow-up to Until Dawn we've been waiting almost seven years for, even if it's just a spiritual successor.
The Quarry will launch simultaneously on Steam, PS4, PS5, Xbox One, and Xbox Series consoles. The developer has clarified that the online play is not cross-generational for the PlayStation platforms, and is not cross-buy or upgradeable on PlayStation like many other modern games on the platform are (Xbox version is upgradable and cross-generational play,)  so keep in mind which platform you might want to play with your friends.
You can pre-order now digitally or at most physical retailers, including directly from 2K here.
We'll definitely have more coverage of the game as we get closer to the release date and will be giving it a full review in June.