TGA 2017: THQ's Fade to Silence is an Apocalyptic Survival Game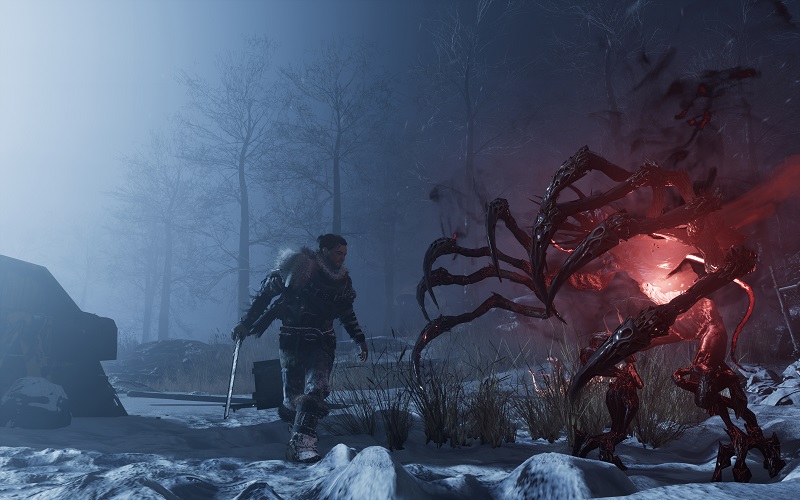 Ahead of its intended reveal tonight during The Game Awards, THQ Nordic's apocalyptic survival game Fade to Silence has appeared on Steam. The game casts players into a harsh winter wasteland against Eldritch monsters. Survival against the elements and the hellish creatures is key. And there's wolf sledding to traverse the world! Prepare for your woofers to die, though. Just look at that monster in the image above — it's pointy and probably hates dogs.
Fade to Silence is launching into Steam Early Access as soon as next week. The game store page is filled with details about the game's premise and what the team hopes to accomplish through Early Access.
As the player you take the role of Ash, a natural but tormented leader. In that role you explore a post-apocalyptic, frozen wasteland to gather the resources necessary to establish a refuge for survival. With dwindling resources, simple tasks like upgrading equipment and collecting materials quickly require an expedition to scavenge the necessary items. In the search for survival materials, players must navigate a vast territory, in which they will encounter Eldritch monsters and an even greater foe: the unrelenting winter. While freezing temperatures constantly take their toll on the player Ash, the deadliest event is that of a blizzard. If caught by surprise, it takes every ounce of skill, determination and luck to survive.

Fade to Silence introduces the many dynamics of a harsh winter climate to a complex, character-driven, group survival experience. The dynamic weather system adds to the immersion of survival in a cold, corrupted world. Survival depends on how well the players read weather patterns, and if they come to the right conclusion – look for shelter or press home. The dynamic snow displacement leaves a realistic path by both player character and NPC. This telltale sign will tell you regions where it is good to hunt and regions where monsters are roaming.

Features:

Explore a vast winter landscape: The launch version lets you explore a river delta, a dense forest region and cultivated farmland of an 8km² area.
Wolf Sled Expeditions: Pack your sled, take a follower with you and engage in long term expeditions into the farthest regions.
Fight System: Tiered weapon system, melee and ranged combat.
Moral choices: Save and recruit various NPCs to join your group. Harsh choices have to be made; who do you take, who do you leave behind.
Battle increasingly dangerous Eldritch creatures that roam an apocalyptic world.
Trust your inner voice. It is your friend.
The game's intended full release will be in August 2018. A price has not yet been disclosed.
[Source]