Vampyre Cosmetics has partnered with Konami Digital Entertainment to create an officially licensed makeup collection based on the Silent Hill franchise.
The collection, which will be available for pre-sale starting September 1st, will feature a variety of products inspired by the game, including lipsticks, eyeshadows, blushes, and nail polishes. The packaging will also feature artwork and imagery from the game which should make fans feel right at home.
We are thrilled to partner with Konami to create this makeup collection," said Rachel Clinesmith, founder and CEO of Vampyre Cosmetics. "Silent Hill is one of the most iconic horror games of all time, and we wanted to create a collection that would do justice to the game's dark and atmospheric aesthetic.
If you are wondering who Vamypre Cosmetics are, here's how the company describes itself:
Vampyre Cosmetics combines unique packaging and nostalgic imagery in a way that makes people say "wow". Each and every product is created with a rigorous focus of evoking an emotional response, making Vampyre Cosmetics the perfect fit to authentically bring this collection to life and thrill fans who have been playing the game since 2001.

Vampyre Cosmetics are sold online at www.vampyrecosmetics.com, HotTopic.com, and at over 130 independent stores worldwide. Vampyre Cosmetics launched licensed collections with Emily the Strange & Vincent Price in 2022 and Winchester Mystery House & Amy Brown Fairies in 2023. The highly anticipated SILENT HILL Collection will arrive later in 2023.
The collection includes three liquid lipsticks (rust color, flesh color, and brown) as well as two palettes (Pyramid Head Palette & Bubble Head Nurse Palette). There is also a third palette available that is not included in the collection: Robbie The Rabbit.
There isn't a whole lot of information available just yet, so we'll have to wait to find more. Also, the images are still subject to change, so be on the lookout for some better pictures of what could be quite a collector's item at some point.
Here is the collection's official outline:
KONAMI, the Tokyo based video game giant, confirmed their remake of the SILENT HILL franchise favorite SILENT HILL 2 in October of 2022. Vampyre Cosmetics is excited to announce the first part of their officially licensed makeup collection featuring imagery from across the iconic SILENT HILL Franchise. Pre-sales for an exclusive box set will go live September 1st, 2023.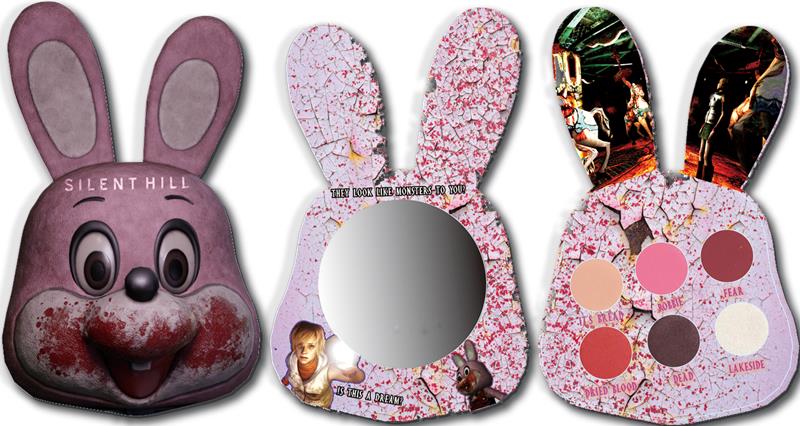 The Silent Hill makeup collection will be available for pre-sale on the Vampyre Cosmetics website starting September 1st and will still release in 2023.
The collection will also be available at select retailers worldwide.