Rise of Nightmares details and screens surface, box-art revealed
Rise of Nightmares was announced quite a while ago and it promised to deliver a truly immersive survival horror experience in which, as Microsoft so prominently advertises, you are the controller via the Kinect. After months of barely any new intel on this upcoming Kinect-exclusive we now (thanks to 123kinect) have some details, screens and a box-art to go from. You can check all of that out below.
Horrifying and compelling: An unashamedly mature title in a sea of family-friendly offerings on Kinect for the first time, Rise of Nightmares takes you into a cinematic world of horrific blood and violence.
Unique motion controls: Use your whole body to fight the undead horde with physical brutality. Rise of Nightmares is an intensely immersive experience that brings horror to life like never before.
Explore and investigate: Navigate through Viktor's castle with free movement control, uncover the secrets held within and delve deeper into his the mind of a madman.
Deep and varied gameplay: Master the different fighting styles and various weapons, stealthy sneaking and puzzle-solving. Will you fall into the mansion's traps or lure the undead into one of your own?
A complete experience: A full, cinematic gaming experience set in a twisted and astonishing world that grips you from the very start.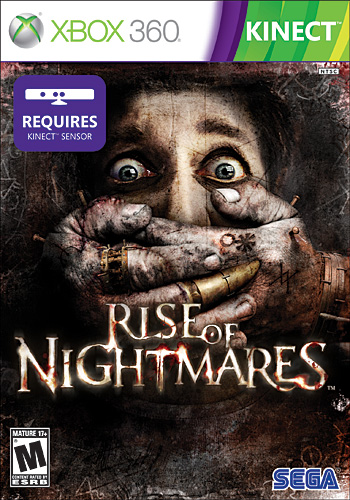 [Source]