Rumor: Resident Evil Portable lives, now on Vita?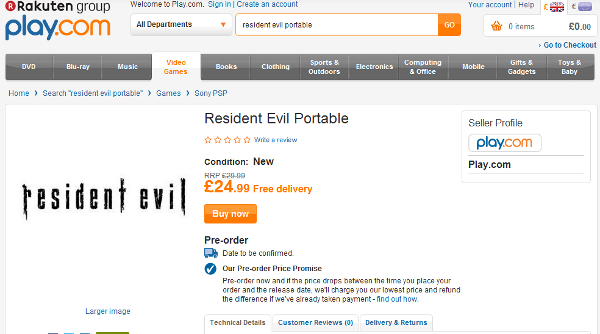 Could this be? Is Resident Evil Portable actually not dead, but undead and coming soon to Playstation Vita? UK game store Play.com thinks so. Seemingly out of no where, Play has listed Resident Evil Portable and a few unannounced Playstation Vita games on its site for preorder.
With Sony's conference being tomorrow night, will we finally see Resident Evil Portable after its announcement back in 2009? If the listing is new, the PSP is the last place it will release. The Vita would be the platform of choice. In the meantime, I'll reach out to Play and Capcom to see if this is an ancient product listing or not. Their organization for PSP and Vita games cross paths a bit so it can be confusing.
With no 3DS in my possession, I have been missing out on Revelations. While I doubt REP is Revelations, it will be nice to have some Resident Evil on the go for the Vita. Everyone deserves some evil in the palm of their hands.