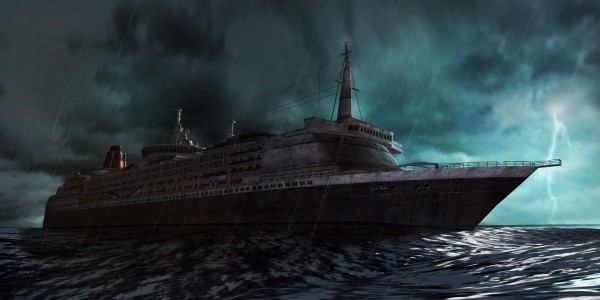 What we might have posted previously might make you think that Capcom doesn't care about what fans think.  Whether or not that's true, we really can't say.  However we can at least say that Revelations producer Masachika Kawata not only cares about what fans think, but is taking it to heart.  Noting that many fans consider the Resident Evil remake to be one of the best games in the series, Kawata had intended  for Revelations to take place not aboard the gigantic Queen Zenobia, but in a mansion.
A floating mansion, if you will.
Seth Killian, Capcom's community manager revealed this information on the latest bi-weekly podcast.
The concept for Revelations, it was actually just a floating mansion…That was the concept.  It was just a mansion at sea.  Capcom USA forced them to change it to a cruise ship.
How exactly a mansion at sea would work is beyond us – maybe some sort of oil-rig retrofit?
At the beginning of the demo, Jill Valentine remarks that the place looks familiar.  Indeed, the game does look like quite the throw-back to older Resident Evil games, so we're fairly certain that the Queen Zenobia will suit Revelations' setting just swell.
To add to that, Capcom recorded Revelations' music using orchestal instruments, with a heavy focus on the piano.  Chorus and violin solos were later added to the soundtrack as well.  Just another reason why old school Resident Evil fans should be picking up Revelations.
Are you?
[Source]