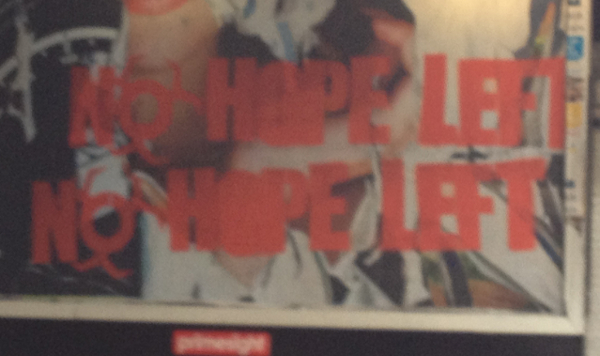 It seems that this massive Resident Evil 6 speculation is only going to get more and more interesting as time goes on (well up until tomorrow). TuffCub from The Six Axis stumbled upon one of the spray painted "No Hope Left" signs in London, only to discover that it was indeed a printed advertisement. Upon closer examination he discovered that the ad in question was being done by outdoor ad company Primesight.
TuffCub contacted both Capcom and Primesight with hope that this was indeed Resident Evil related.  Capcom gave him the usual PR response on rumors/speculation, but Primesight let slip that the ad campaign was being run by Capcom. If this doesn't point at Resident Evil 6, then we might as well give up and wait for the official announcement.
So, we have Chinese viral videos, Biohazard symbols across the world, and a mysterious date that coincides with Capcom's 15th Anniversary stream for the Resident Evil series. Also note that the No Hope Left website has been updated with even more material since last night. Hold onto your butts!
[Source]