Looks like all those extra costumes in Resident Evil 0 HD will be sold through DLC packs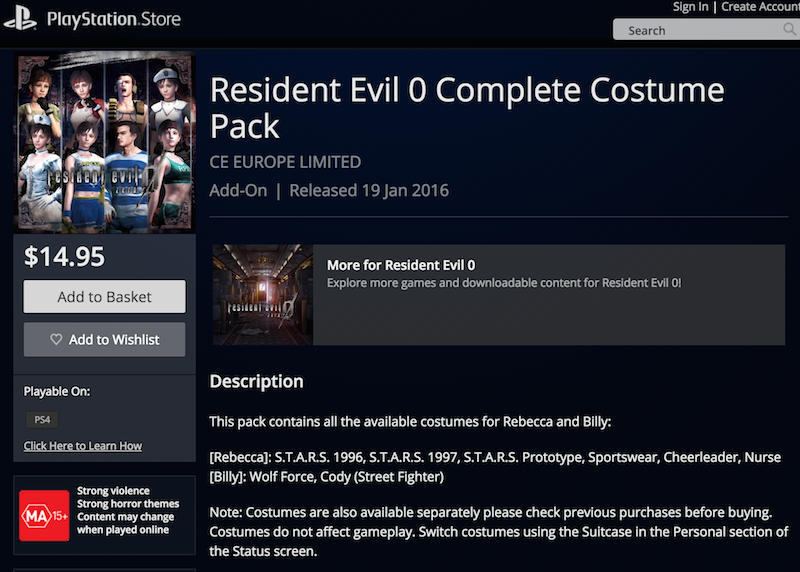 Resident Evil 0 HD Remaster has a lot of costumes to unlock. And selecting which you want Billy and Rebecca to wear is super easy. All you have to do is go to your inventory and select the suitcase icon, which then gives you all the costumes you currently have unlocked. But it still hasn't exactly been revealed how players will actually be able to unlock said costumes.
If you head on over to the product page for Resident Evil 0 HD Remaster on the AU PlayStation Store, you'll see that costume packs have already been listed for the game. There are smaller packs and then the one pictured above which compiles all the costumes together.
That explains that, I guess. I was hoping that they would all be unlockable in-game without the need for paid DLC.
Resident Evil 0 HD Remaster launches tomorrow on PlayStation 3, PlayStation 4, Xbox 360, Xbox One, and PC. There's also a compilation disc, Resident Evil Origins Collection, coming out tomorrow for PlayStation 4 and Xbox One, which bundles Resident Evil HD Remaster and Resident Evil 0 HD Remaster.
[Source]