First Resident Evil Revelations review is in!
Even though the game won't be out until January 27th in Europe and February 7th in America, the first review of Resident Evil Revelations has appeared in the UK gaming magazine, GamesMaster. While it's a bit surprising how early it's come in, we've gotten a go-ahead from Capcom it's alright to talk about this, and if you put a bit of thought into it, it's not the most surprising thing. Resident Evil games are often in development for several years, and often are completed several months before their release dates. The last few months up until official release are spent advertising, polishing up the game, etc., and the game seems to already be completed and ready for it's upcoming release date.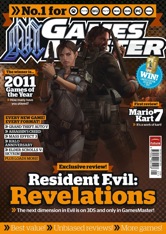 The first review of Revelations gives the game a score of 91%, calling it a true return to form for the series. For comparison, they gave Resident Evil 5 an 87%, saying the game was a fun co-op experience but lacked in single player and scares. On Revelations front, they say the game is the scariest handheld game ever as well as one of the scariest Resident Evil games, and praise the environments, story, and scares of the game. They claim the game is, "choking full of atmosphere," and that it is, "the game to convince Resi fans that the series is back to its best."
Check out the full review in GameMaster's January 2012 issue.