10 facts about Resident Evil: Retribution
Say what you want about the Resident Evil film franchise, you just can't deny its financial success on a film-by-film basis. Since the release of the first film back in 2002, director Paul W.S. Anderson has been at the forefront of the most successful game-to-film franchise to date, with each sequel besting the last at the box office. That in and of itself is quite a feat. So, obviously, we're set for more sequels in the future.
The latest one is Resident Evil: Retribution, which starts filming next week in Toronto, scheduled for release next September. While we've already learned of many cast members returning to reprise their roles (some even coming back from the dead) and fan favorite characters making their silver screen debut (Ada, Barry, and Leon), here's a neat compilation of 10 facts from the upcoming film. This comes courtesy of Collider, from a recent interview they held with Anderson. Be sure to head on over to their site to check it out in its entirety.
RE:5 starts filming in Toronto in a week.
Anderson lent heavily on the video games for inspiration for Retribution, just as they did with the previous films.
They're bringing in the Las Plagas parasite from the games for Retribution. It will allow the undead to "run around, ride motorbikes, and shoot machine guns."
They're recreating an action set-piece from the fifth video game where the characters are driving in a Hummer while being chased by zombies. Anderson changed the vehicle to a Rolls Royce Phantom.
They had to tear apart and rebuild the Phantom with roll-bars and such in order to shoot the chase scene.
Responding to criticisms that the film franchise has become too action-heavy while sidelining the horror, Anderson said the games have followed the same trajectory, leading to some phenomenal action sequences. He praises the franchise for consistently changing things up.
When decided which new characters to include in Retribution, Anderson and Milla Jovovich listened to the fanbase. They settled on adding Leon Kennedy, Ada Wong, and Barry Burton, who they felt where the three fan-favorites that the film franchise has yet to touch on.
When casting for the new characters, they tried their best to get people that looked as much like the game characters as possible.
Retribution takes place in Tokyo, Moscow, and North America. They're filming in all three locations.
When Anderson signed on for the first film, he flew to Osaka and spent three days at Capcom explaining his vision and having a dialogue with the game creators.
Anderson says the relationship between the films and Capcom is symbiotic. They look at the scripts and give notes, and sometimes the Anderson and the people working on the film franchise will change things because of the comments.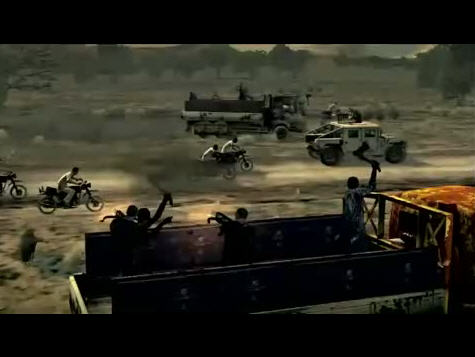 Replace the hummer with a Rolls Royce Phanthom and you're set.
[Source]