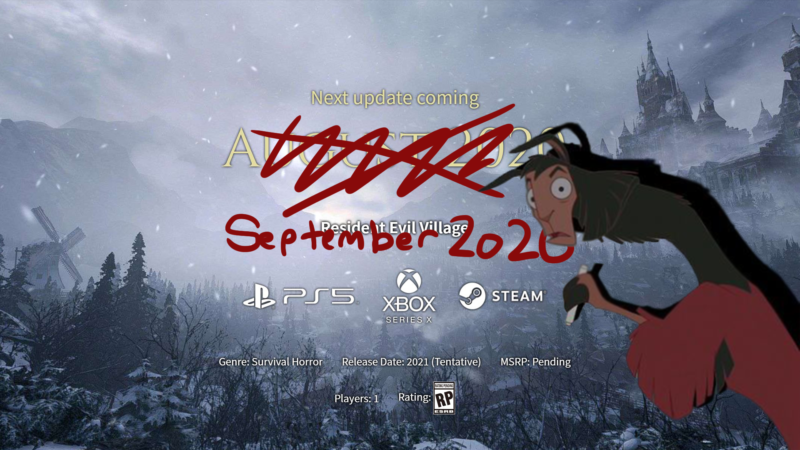 Sometimes things just don't work out, and this was one of them. After Resident Evil 8: Village's announcement trailer dropped back in July, we've been eagerly anticipating the next update. That update was presumably slated for last month, as the official Resident Evil 8 webpage displayed "Next Update Coming August 2020". August obviously came and went without any information on the title whatsoever, which left a lot of fans somewhere between worried and annoyed. Just as August completed its final hour before the world completely rolled over into September, Capcom finally revealed that the new Resident Evil 8 update was, in fact, going to be at TGS. From Capcom's DEV1 Twitter:
Resident Evil Village will be part of Tokyo Game Show 2020 Online and Capcom's own TGS LIVE 2020!https://t.co/jXTSrLQqkI

We know that gamers were excited to learn more in August so we apologize for the delay. Stay tuned.#REVillage #ResidentEvil

— Capcom Dev 1 (@dev1_official) September 1, 2020
Capcom's TGS stream will be running between 9/26 (Sat) 12pm – 3pm UTC/ 5am – 8am PDT and 9/27 (Sun) 12pm – 3pm UTC/ 5am – 8am PDT. There's no way of knowing what leg of the show Resident Evil 8 will be a part of (Capcom still has a ton of other franchises under its belt to fill those streams with), but we might get an update on when to tune in to specifically when we get closer. I'm going to try to watch as much as I can in hopes that maybe Ace Attorney will finally get an update. Oh, and uh, of course so I can see the Resident Evil 8 trailer, obviously. Yeah.
In the midst of the continuing global crisis, hopefully everyone is able to understand that this update being postponed was out of everyone's hands. It's a shame we couldn't have been notified sooner (or even actually in the month of August), but oh well. We still don't have any more information to go off of regarding Resident Evil 8's next update, but we were left with tons of questions and theories after that first trailer released. We're hoping to see some gameplay at the very least, but we'll just have to wait a few more weeks to find out! We'll keep you posted.