Resident Evil 3: The Board Game on Kickstarter from Steamforged Games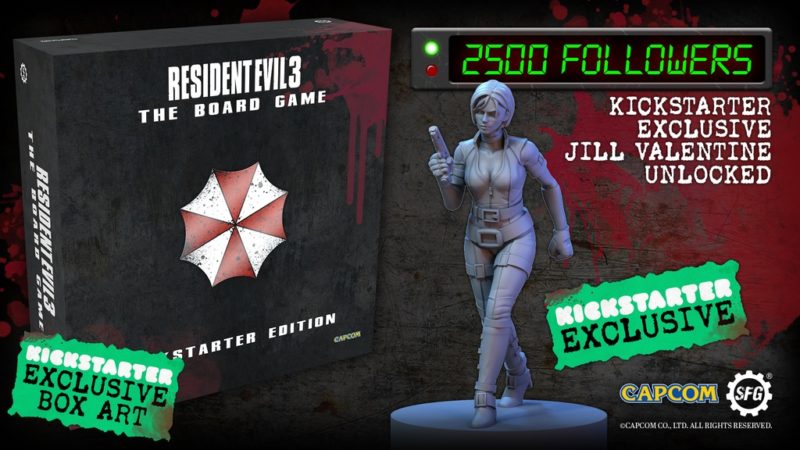 Well, that's a pretty big surprise. After last year's Resident Evil 2: The Board Game got fully funded, I really hadn't considered its sequel to get a game all of its own. Well, here we are, and Steamforged Games, the company behind many a video game turned board game titles, has announced that the original Resident Evil 3 is receiving a board game adaption! From their site:
Steamforged Games is once again working with Japanese video game giant Capcom on a brand new Resident Evil™ board game, set to launch April 28 on Kickstarter.

Following the success of Resident Evil 2: The Board Game, Steamforged will now bring the 1999 Playstation classic, Resident Evil 3, to the tabletop.

Based on the original video game, Resident Evil 3: The Board Game is a cooperative survival horror game for 1-4 players that can be experienced either through individual, one-shot scenarios, or as a 19+ hour campaign with an overarching storyline.

Taking control of iconic characters like Jill Valentine and Carlos Oliveira, players will attempt to escape Raccoon City in the midst of a T-virus outbreak.

All the while, the city danger level will be on the rise, the number of undead monsters will increase, and every decision will be crucial.

To survive, players must carefully manage resources, make intelligent and meaningful decisions, and be wary of curveballs thrown by the tension deck—a mechanic carried over from the RE2 board game which will surprise players with unexpected threats to replicate the terrifying suspense of the video game.

The board game's design comes from Sherwin Matthews of Steamforged, a self-proclaimed superfan of the franchise who also headed the design of Resident Evil 2: The Board Game.

Mat Hart, Creative Director and co-founder of Steamforged Games, said, "It's a privilege and an honour to be working with Capcom once again to bring the horrors of Raccoon City to the tabletop. Steamforged is proud of its proven ability to bring video game properties to life and lovingly craft them into high-quality board and card games. Resident Evil™ 3: The Board Game will surprise and challenge even the most hardcore RE fans. It will have players running from Nemesis like it's 1999!"

Resident Evil 3™: The Board Game will launch on Kickstarter on April 28, 2020. Fans can follow the campaign on Kickstarter to be notified when it goes live.
For being a Kickstarter backer, you receive an exclusive box and character piece, based on Jill's "Biker" costume from the original Resident Evil 3. It's pretty awesome, and it makes me hopeful that maybe they'll just keep going? I would lose my marbles at a Resident Evil 4 board game, all the little character pieces would be to die for. At the moment there's no date set for when the Kickstarter goes live but you can follow it here to be notified when it does so. We're looking forward to learning more, the modeling detail for RE2 was fantastic, and the game itself (while we never got the chance to play) has fairly positive reviews. We'll keep you posted!