Resident Evil 3 Remake Nemesis Bust Revealed for $100 USD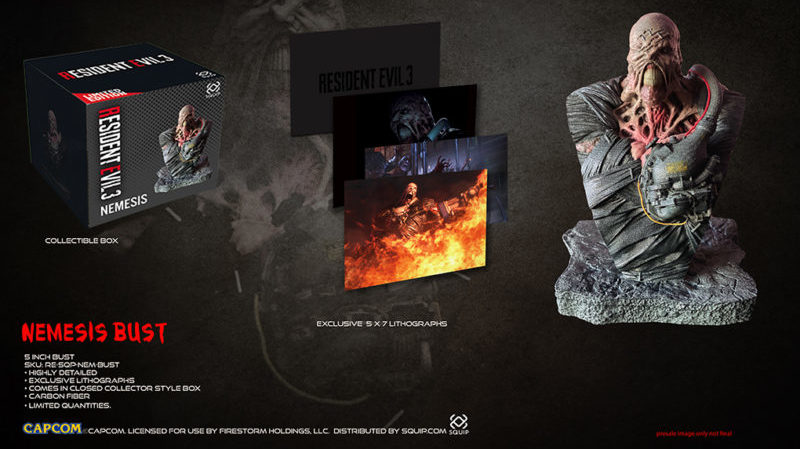 Talk about a verticle slice! Just over a month has passed since the release of Resident Evil 3 Remake, and we have a new piece of merch to look forward to! Revealed today over on their twitter, an official Resident Evil 3 Remake Nemesis T-Type bust has been made available for pre-order!
"STARRRRSSS…"

This officially licensed 5" tall bust is the ultimate representation of Nemesis! Includes 3 exclusive lithograph prints and a beautiful collector's box. Order yours at the link below:https://t.co/SZ2zk7YEVo pic.twitter.com/qp40PbAkRa

— Resident Evil (@RE_Games) May 6, 2020
Relive the horror with this Officially Licensed 5" tall, magnificent statue bust, the detail and quality is the ultimate representation of this iconic Resident Evil creature! Included 3 exclusive litho prints and a beautiful collector box. This hulking monstrosity was dropped into Raccoon City amidst the panic of the spreading infection. A gigantic figure shrouded in black and delivered via a heavily reinforced capsule, this new Umbrella-made bioweapon is based on the formidable Tyrant series, iterating to address its few weaknesses. Two vast improvements, in particular, stand out: its ability to make decisions for itself, determining how best to achieve its goals; and its regeneration abilities, allowing it to continue stalking the battlefield no matter what harm may come its way. Nemesis was given one mission: Exterminate all remaining members of S.T.A.R.S. in Raccoon City. Their knowledge about Umbrella is too great a threat and must be eliminated.
This hunk of bioweapon is gonna run you $100 USD (plus shipping and handling, of course), and comes with a set of exclusive lithographs. I really like the sort of dusty finish it has going on, and this'll look great next to the Resident Evil 3 Remake Collector's Edition Jill statue as well. Perhaps even set up between her and the RE2 Remake Leon statue?
At the moment, the statue is currently sold out, but they'll most likely restock soon enough. $100 isn't bad for a bust this high quality (especially considering Resident Evil's history with expensive collector's stuff). We'll update this post when the statue becomes available for purchase again.