RE2 Remake: First Look at Deluxe Edition Costumes; Easter Eggs Abound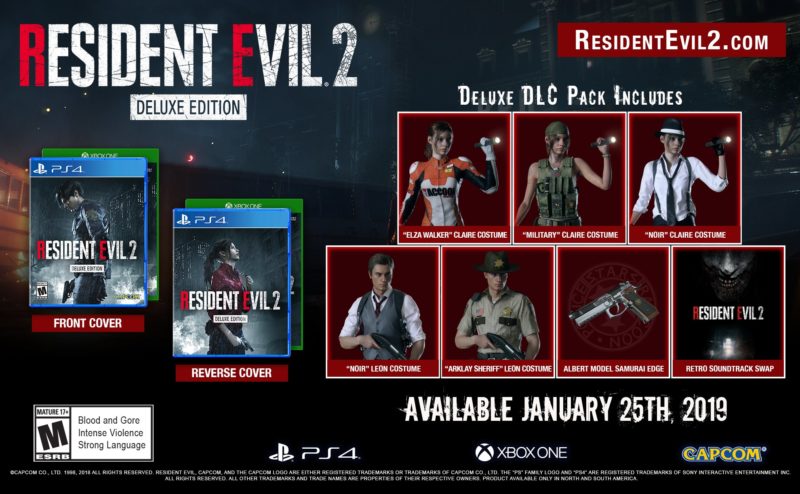 So fans have been wondering what in the world the Deluxe Edition costumes would actually look like since they were announced right after the game was. The Deluxe Edition contains a number of exclusive costumes (that as far as we know won't be sold separately), the ability to swap the score for the original 1998 music, and Wesker's Beretta M9 Samurai Edge Custom (the same model that inspired the Albert 01 handgun in RE7). The costumes were all listed by name, and aside from one obvious standout (that dressed Claire up as the RE1.5 beta character Elza Walker), we didn't really know what the others would be in context. They're all easter eggs.
So in Resident Evil REmake, Jill and Chris originally came with two bonus costumes – one legacy outfit (Jill's RE3 look and Chris' CVX look), but the second costume was a cute nod to pop culture. Jill got a military outfit clearly inspired by Sarah Conner's iconic look from the 1991 film Terminator 2: Judgement Day, and Chris got an outfit that both shouted out to his sister (with the Made in Heaven art on the back) but was also inspired by Brad Pitt's character from the film The Mexican. This time around is no different, but with a cute little horror twist.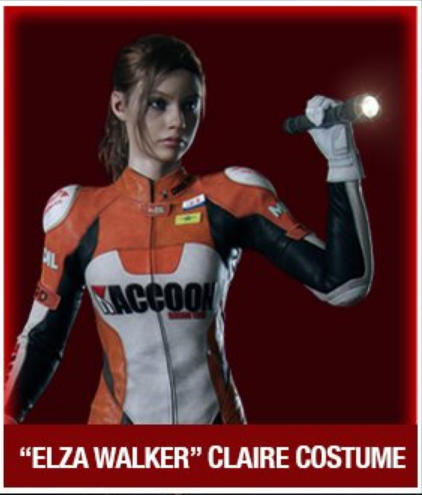 Of course first off we have Claire's Elza costume, which… let me tell you as a long time fan that actually really loved a lot of the ideas from the scrapped RE1.5 (many of which are returning for this remake), it's… really amazing to see this costume realized so brilliantly. Aside from some beefier shoulder pads and some small tweaking around the edges, it's nearly identical to her 1997 look. Shame Claire's hair doesn't change to blonde when wearing the outfit, but oh well.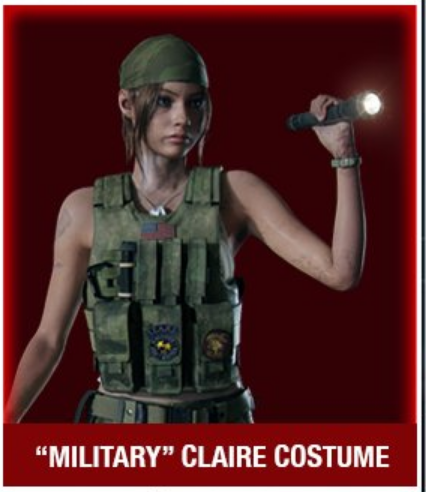 Next up her "Military" outfit. Yeah, that's pretty much just straight up Sarah Conner again, although maybe with some Vasquez (Aliens) thrown in. There's also patches on the vest pockets, one for S.T.A.R.S., which is fun, but also what appears to be the insignia for Operation Raccoon City's Spec Ops Echo Six team. This isn't the first time the otherwise completely non-canon game has been referenced in a canon one if that is their logo, as the same symbol also appeared (along with the U.S.S. logo) in Umbrella Corps. as an optional applique for your multiplayer character.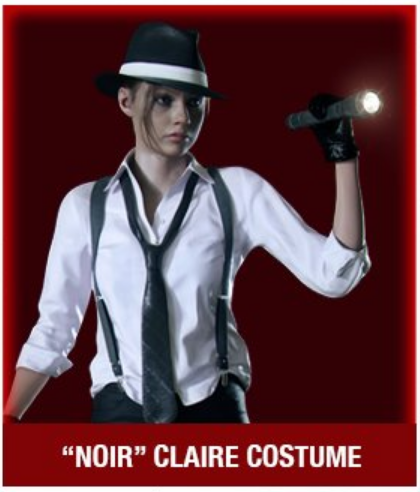 Here we have Claire's Noir outfit… which is charmingly a shout out to Resident Evil series creator Shinji Mikami's follow up series, The Evil Within. While Juli Kidman didn't wear a hat or tie, the similarity is distinct, and is only helped feel intentional with Leon's first bonus costume…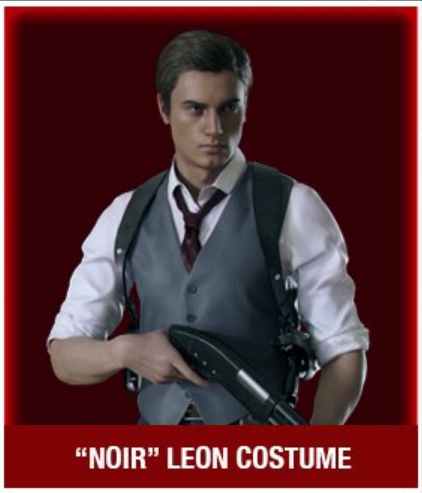 There's no way this wasn't intentional. While there is no official way Capcom can use or nod to Bethesda/Tango Gameworks Evil Within series, Leon is just straight up dressed as series lead Sebastian Castellanos here. Red tie and all. Also, pretty weird seeing Leon with his hair slicked back, this is a series first for him. It's honestly a little heart warming to see this kind of shout out to his works even after him and Capcom split on what many consider to be pretty bad terms. Then again, it might also be their way of extending a small bridge after he made some comments last year about perhaps returning to Resident Evil in the future…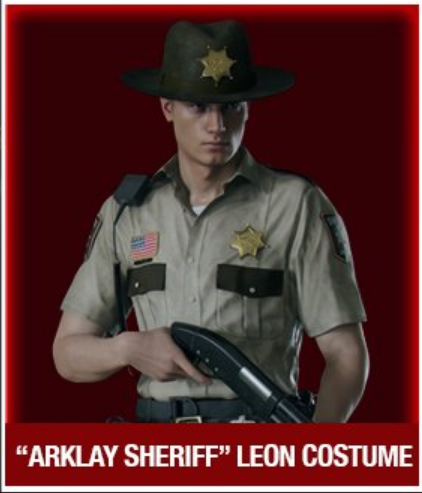 Leon's next outfit is another charming horror shout out, this time to The Walking Dead. Yeah, sure, it is technically the same outfit as the Sheriff from the E3 reveal trailer, the hat 100% turns this into a pretty obvious shout out to Rick Grimes. Nice touch, Capcom.
Another interesting thing to note is what isn't here. Me, Resident Evil super fan Where's Barry, and Twitter user Demos1184 pieced together that Leon may not be starting RE2 in his iconic RPD riot uniform, but instead in regular civilian clothes with a black rain coat/jacket. The jacket has been seen a few times now, from the E3 reveal trailer, to official screenshots, and even very briefly when booting up the RE2 E3 demo. While there had been debate as to it being one of these costumes, it looks like that's all cleared up now, since… well, it isn't. It's actually surprisingly common for this sort of thing to happen with games marketing, show the character in a "primary" costume in most marketing, even if the character doesn't wear it in the scenes shown. Dead Space 2, Batman: Arkham Knight, and most recently Marvel's Spider-Man to name a few good examples. Odds are, Leon will pick up his gear at the police station, which is actually some pretty cool world building in my opinion.
Oh yeah, and the Deluxe Edition has Leon/Claire reversible covers, which is pretty rad.