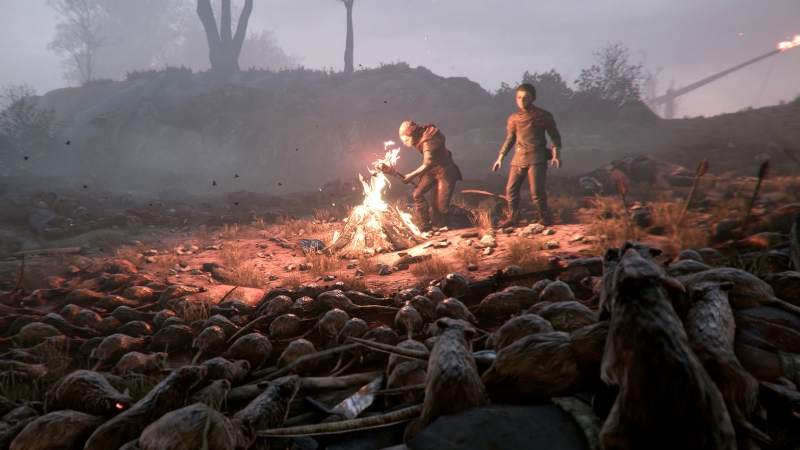 I've had A Plague Tale: Innocence on my radar for a while now. An ambitious historical thriller from publisher Focus Home Interactive, A Plague Tale: Innocence looks like it could either be one of the best games of the year, or just another in a long line of cinematic adventure games in the Last of Us mold. The game launches on May 14, so we don't have much longer to wait. In the meantime, Focus Home Interactive have released a new trailer detailing the gameplay and systems of the upcoming survival game.
A Plague Tale: Innocence tells the story of two children, Amicia and her brother Hugo. Displaced from their homes at the height of a plague ravaging war-torn France, they must find a way to survive not only the humans who want them dead, but the hordes of rats as well. The trailer shows off some of the gameplay systems, including Amicia manipulating light sources to safely navigate hordes of rats. One particularly interesting scene shows her shooting the light out of a passing guards' hands, leaving them vulnerable to the hungry rodent hordes.
The trailer also showcases some light puzzle solving, hinting that the final game may rely on switching between the perspectives of Amicia and Hugo, or at the very least utilize Hugo to navigate areas Amicia is unable to reach. Time will tell whether these systems have enough impact on the gameplay of A Plague Tale to help it stand out in the market. The overarching concept is certainly interesting enough to have me intrigued. I hope the developer is able to follow through and deliver the dramatic thriller they clearly want A Plague Tale: Innocence to be.
A Plague Tale: Innocence launches May 14 on Playstation 4, Xbox One, and PC platforms. You can check out our previous coverage of the game's story trailer here.