Our Next Horror Movie Commentary is for Resident Evil: Extinction!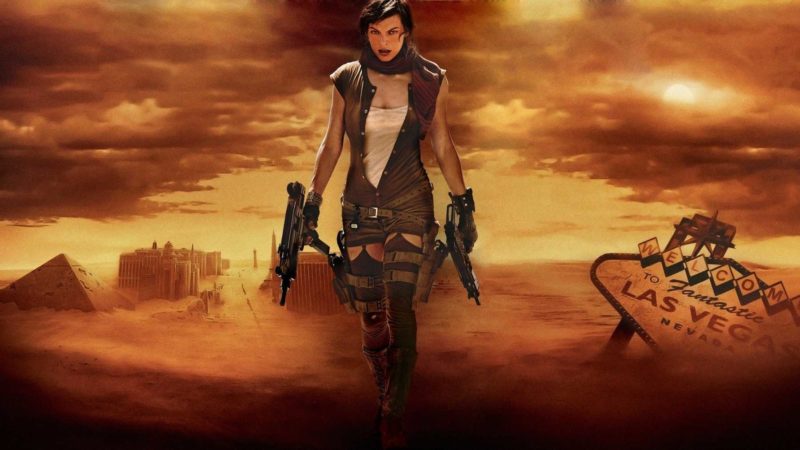 With the recent announcement of Resident Evil 8: Village (or Resident Evil Village or VII_age or whatever we're calling it), we decided to hope back into the wonderful world of the Paul W.S. Anderson live-action movies! This month, following up on our previous commentary for Resident Evil: Apocalypse, we'll be doing the third film in the series, Resident Evil: Extinction!
Released in 2008, the film was the first in the series to completely diverge from the timeline of the games, existing in a world where the T-Virus completely destroyed the planet, reducing humanity to a Mad Max-style fight for survival. In the meantime, the insidious Umbrella Corporation is working to find a way to eradicate the infection from underground and make the planet habitable again (ignore the fact that this is literally the exact opposite of their explained motivations in The Final Chapter). Returning is the original character Dr. Alexander (Samuel?) Isaacs, who's hunting down the Resident Evil film's lead protagonist Alice, and featuring the first appearances of game characters Claire Redfield and Albert Wesker, Resident Evil: Extinction was the last of the feature films that felt… coherent. At least in comparison to the next three films.
To secure a download for our Resident Evil: Extinction commentary (and all past and future commentaries), support our site and staff on Patreon for just a dollar or more a month! Not only will your contribution support our goals of improving our site and the content we produce, but you'll also get exclusives like our monthly commentary series, ad-free access to the site, and more!
Keep an eye on our Patreon page for an MP3 download link soon!
Our full list of goodies for Patrons include:
Ad-Free browsing!
Exclusive monthly horror film commentaries – from classics to the latest releases!
Exclusive Discord Role!
Advanced access to episodes of the Rely on Horror Show on Youtube!
Access to the Patreon comments page
Automatic entry into eligible site contests (requires valid email)
A Thank You on the site
Inclusion in our weekly newsletter!