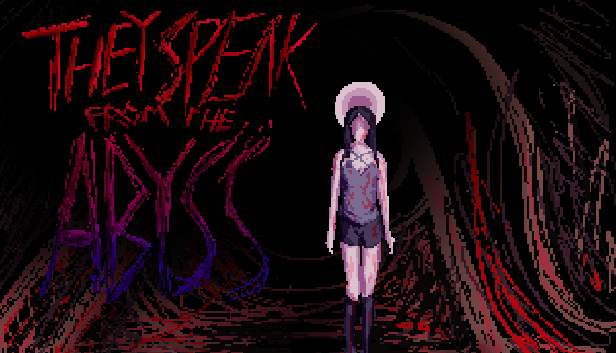 They Speak From The Abyss, is an upcoming psychological horror RPG by Solo developer Nikki Kalpa that aims to faithfully capture the spirit of classic dungeon crawlers with a glorious grunge horror aesthetic inspired by the works of Clive Barker and Junji Ito and the video games Baroque and Shin Megami Tensei.
105638
none
none
true
true
true
Close
Next
Previous
The requested content cannot be loaded. Please try again later.
They Speak From The Abyss tells the story of Vanessa Rivera, a young woman in dire need of a fresh beginning. With dread and anguish serving as a conduit, she is propelled into a world of literal nightmares riddled with horrific abominations. In order to escape the Abyss, Vanessa must face the very demons she attempted to leave behind in the first place.
You must choose your words carefully, as some demons can be reasoned with. But when talking isn't an option, be ready to engage in heart-pounding active-time battles.
This is Nikki Kalpa's first major release as a solo developer. Speaking about the game's themes, she said:
They Speak From The Abyss is about overcoming fears and trauma and trying to become a stronger person. Players must explore and confront many personal, mature, and often dark themes; themes of body horror and psychological struggle emerged through an expression of hate and anger. The journey of the player is designed to reflect real-world trials and tribulations.
Key Features:
Homage to classic dungeon crawlers
Heart-pounding active-time battles
Horrific hand-crafted pixel art
Grounded psychological horror narrative experience
Explore beautifully gruesome environments
Confront the woeful souls and frightening Demonic creatures lurking throughout the Abyss
Sinister puzzles to solve throughout the Abyss
Literal nightmares
They Speak From The Abyss is set to release sometime in 2023. You can wishlist it here and try out the brand-new demo on itch.io.
Be sure to check out the Teaser Demo Trailer below.