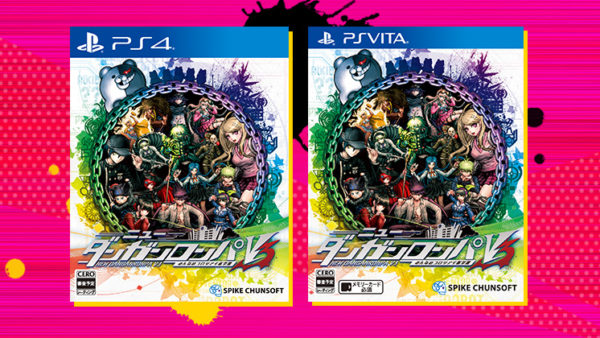 The latest entry in Spike Chunsoft's Danganronpa series of murder-mystery visual novels, the aptly-tilted New Danganronpa V3 (not to be confused with the Danganronpa 3 anime currently airing) is fast-approaching its January release date. Though we still know next-to-nothing about the game, the NDRV3 teaser site recently updated with some clean art of the game's cast (including a host of Monokuma-clones) and few new tidbits of info for the fans to salivate over.
Below is a translation of the update, courtesy of Gematsu:
Introduction

In the latest title, New Danganronpa V3: Everyone's New Semester of Killing, the setting and characters have completely changed from the previous entries.

Additionally, there are new elements such as "daring to lie in order to better proceed through the class trial," and many new systems such as "Scrum Debates," which divides the trial into two teams.

The "psycho cool" theme strengthens the visual style and direction as a new story unfolds in a new high school.

Refute contradictions during class trials and expose the culprit that committed the murder in the high-speed reasoning action of Danganronpa.

Setting: Saishuu Academy (Gifted Inmates Academy)

A school with a unique atmosphere, overgrown with greenery from its classrooms to its corridors.

Protagonist: Kaede Akamatsu

Kaede is a reliable and responsible type with a bright and positive personality. She naturally takes charge and leads others, and possesses both strong determination and the ability to take action.

Monokumas

Five bear-type robots who call themselves the "Children of Monokuma" will appear. Under their father and the school headmaster Monokuma, they control Saishuu Academy, as well as the "killing game" carried out there. Each Monokuma has its own, entirely different personality, and are often unable to keep control of the conversation…

—Monotarou

The leader-esque figure of the five Monokumas, who often tends to get sidetracked. On the other hand, he can also have a child-like clumsiness about him.
The names of the rest of the cast aside from Kaede have yet to be revealed, and in fact seem to be intentionally hidden in the site's screenshots.
I personally am curious to see whether a five-man band of Monokuma will affect the game's trial dynamic at all or if they'll simply be comic relief a la Monomi in Danganronpa 2: Goodbye Despair or Kurokuma in Ultra Despair Girls.
An English release date has not yet been announced for New Danganronpa V3, but be sure to stay tuned for more information as we await the game's Japanese launch.