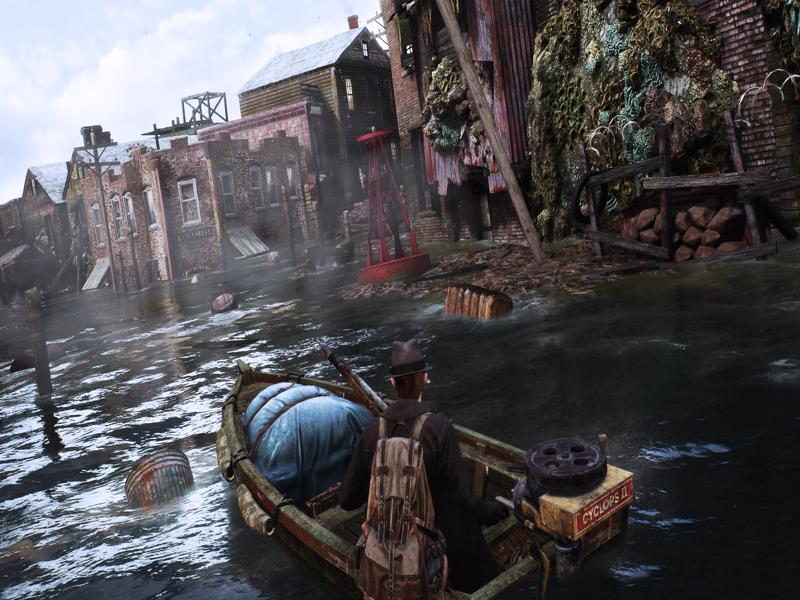 Some folks may feel inundated with Lovecraftian horror, but I can't get enough of it. I've found that otherworldly despair goes best with my morning coffee. Ukrainian indie studio Frogwares, the team behind the Cthulhian puzzler Magrunner: Dark Pulse and the Adventures of Sherlock Holmes series, is serving up some fresh new Lovecraftian horror with The Sinking City.
The teaser trailer doesn't give any indication of gameplay, but early screenshots showing the main character wielding a pistol, shotgun, and what looks like a harpoon gun suggest there will be combat to go along with the investigative exploration, and it's already looking pretty slick. With its waterlogged 1920s setting and mythos-inspired monster design, it could easily live up to the hype it's building for E3. A release date hasn't been announced yet, but it's slated for PC, PlayStation 4, and Xbox One. In the meantime, you can keep an eye on Frogwares' blog, where they've been posting regular updates on the game's development.
Here's how the devs describe it:
The Sinking City is an open world, open investigation game set in a Lovecraft universe. The player steps into the shoes of a private investigator who finds himself trapped in the city of Oakmont Massachusetts – a city suffering from unprecedented floods of supernatural origins. The player must uncover the source of whatever has taken possession of the city and the minds of its inhabitants.