Metal Gear Survive Releases February 20th for PS4, XBO, PC – Pre-Order Bonuses Announced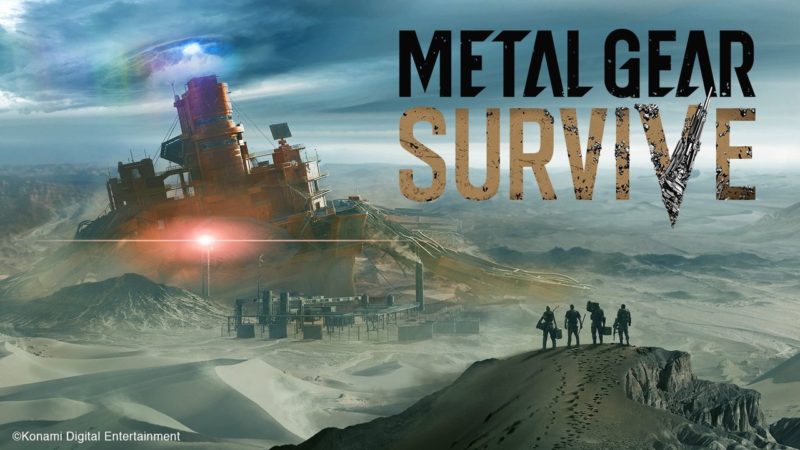 Hey there, people who actually clicked instead of just typing angrily on Facebook.
After a delay, and almost a year's worth of informational drought, Metal Gear Survive finally has an official release date. February 20th, or the 22nd if you're in the UK, will see the release of what might be the most hated game not yet out of all time. A number of pre-order bonuses were announced along with the date, in  the "Day One Survival Pack". Four gold plated weapons, two exclusive emotes, four… metallic… survival scarves? Kabuki style face paint, a special "The Orange" cardboard box headwear (a classic item from Metal Gear Solid 2), and a classic Militaires Sans Frontières Mother Base nameplate, presumably for online play. It's also worth noting that this information only applies to the Xbox One and PlayStation 4 versions of the game, the PC version is not included in this announcement. It's possible that it's either been delayed, or cancelled.
Update: Konami confirmed release on PS4, Xbox One, and PC in a follow up announcement. Seems they forgot the Steam logo with their initial post.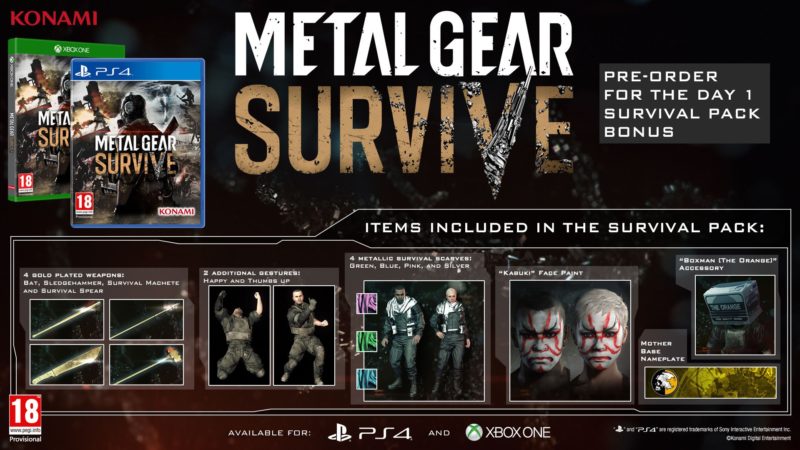 This marks the first console use of the Metal Gear brand since the departure of series creator Hideo Kojima in 2014's most high-profile gaming kerfuffle. Although it actually isn't the first game in the series to have been made without his involvement (famously the reviled Snake's Revenge on NES, and he only produced Ac!d one and two, as well as Portable Ops and Rising: Revengence), Survive has become infamous among fans of the long running, and arguably complete, series. Chief problem, aside from Kojima's lack of involvement, is the reason that we're talking about it here – it's a zombie co-op survival game.
Taking place in between the events of Ground Zeroes and The Phantom Pain, it sees the survivors of the XOF attack on Mother Base transported into an alternate dimension and forced to fight for survival against hordes of bizarre crystallized zombies. We'll be reviewing this, of course, and I'm remaining optimistic for the sake of the poor bastards who had to develop it. More or less everyone involved with Kojima has since left parent company Konami, so whoever developed this game (Konami has stated that the same team that made The Phantom Pain made this, but since that's impossible, I don't know what to say) must feel pressure to a degree we can't even imagine.
[Source]