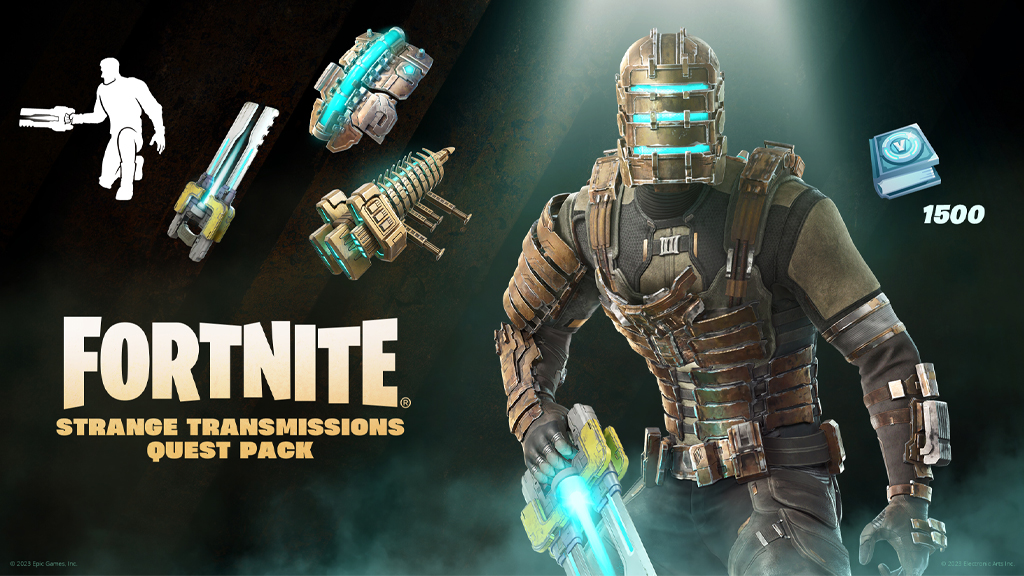 Great news for Fortnite players and horror gamers. As part of Fortnite's 'Gaming Legends' series which features gaming heavyweights such as Lara Croft, Chris Redfield, Ezio Auditore and Master Chief, Isaac Clarke of Dead Space fame has joined the fray as part of the new Strange Transmissions quest pack.
Players can enjoy Fortnite matches blitzing their way through battle royale fully outfitted as Isaac Clarke. In addition to Isaac's iconic costume, the pack also includes the RIG Back Bling which features a personalized life-monitoring system, a USG Ishimura Back Bling, and a Plasma Cutter pickaxe modeled off of Isaac's signature weapon.
The Strange Transmissions quest also allows players to earn up to 1,500 VBucks. As a result, the DLC can only be purchased with real money.
Strange Transmissions was released on January 23rd, just four days before the Dead Space Remake to celebrate the long-anticipated remake's launch. For those of you who are fans of Isaac Clarke and his story, make sure to pick up the quest pack DLC for the price of $11.99 on the Epic Games Store for PC, on Xbox One and Xbox Series S|X, as well as PlayStation 4 and PlayStation 5.
The Dead Space remake is currently available on PlayStation 5, Xbox Series X|S, and PC via the EA App, Steam, and Epic Games Store.