Indie Horror Anthology Dread X Collection Lands Later This Month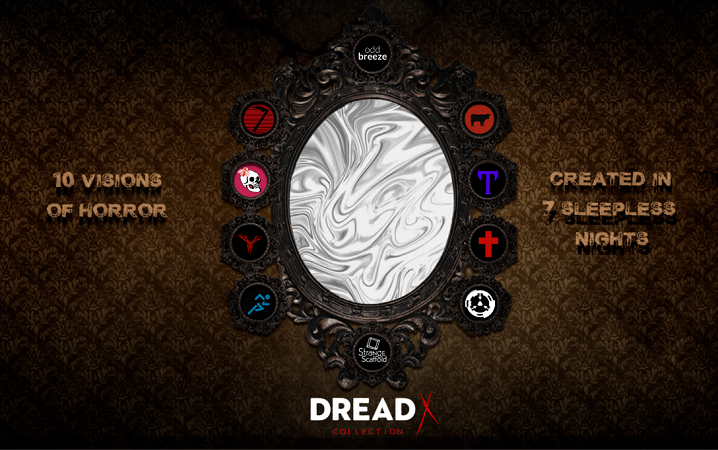 Dread X Collection is a new title from the team at DreadXP, the recently launched sister site of Dread Central, which has recently jumped into the field of indie game production just as Dread Central has done with indie horror films over the last several years.
For their first project, they've brought together 10 of the brightest indie horror developers on the scene today for a new anthology-style title full of fresh content from each one of their twisted minds, titled the Dread X Collection.
All 10 of these games were developed in one week with the premise that each developer forms an original idea in the style of P.T. This doesn't mean that each of the games are just a chopped-down demo for a bigger game, but rather something that can act as a standalone experience. There's also an overarching narrative that ties all the games together and opens up a bigger world in which they all exist.
The official press release for the game explains the concept as such:
Make a P.T. for the horror project of your dreams. Both a game on its own, and a window into a much larger world. Make it raw. Make it real. Make it a reflection of your own fears. Make it in just 7 days.
Some of the developers on board for the Dread X Collection project include David Szymanski (DUSK, Fingerbones, The Moon Sliver) Snowrunner Productions (Soda Drinker Pro,) Secret Cow Level (Fallout: New Vegas,) Lovely Hellplace (Dread Delusion,) Airdorf (FAITH series,) and several others. As an added bonus, $2 of each purchase will benefit Doctors Without Borders — an important organization that is helping combat the COVID-19 pandemic.
You can view the trailer below and wishlist the game on Steam now before it launches on May 26th. We'll have a deeper look at the game coming up very soon here at Rely On Horror. Keep your eyes open for what this collection will have to offer as we near the release later this month!