Here's an announcement trailer for PAMELA, a visually stunning horror game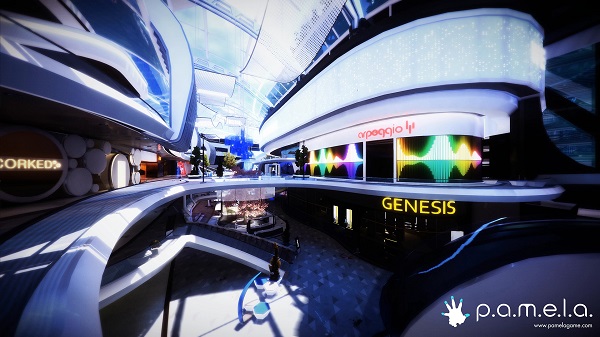 I like my games to feature a lot of color. Gritty realism can only take me so far when it comes to drooling over a game's visuals, and color vibrancy, for me, is more important. Today we're looking at an upcoming open world survival horror game sporting a lot of color. PAMELA is being developed by NVYVE Studios, a four person development team taking inspiration for Pamela from games like Mass Effect, Deux Ex, ans Bioshock. Those inspirations are clear as PAMELA's environments are vibrant, futuristic, and Utopian.
PAMELA is set aboard a futuristic floating city that's destroyed seemingly because its own residents lost their marbles a la Bioshock. The player will be accompanied by an AI named Pamela, who is said to omnipresent and lonely. Gameplay is open ended and diverse as players can upgrade a series of modular weapon systems, and control the city of Eden's power grid to fend off the darkness and those that dwell within it.
PAMELA is not expected to release until 2016 for PC, but it looks pretty well off already. With impressive visuals and gameplay cues from Bioshock being apparent, I'm pretty interested to see what PAMELA has to offer. Check out the trailer below.