Ghosts 'n Goblins Resurrection Coming to Switch Feb. 2021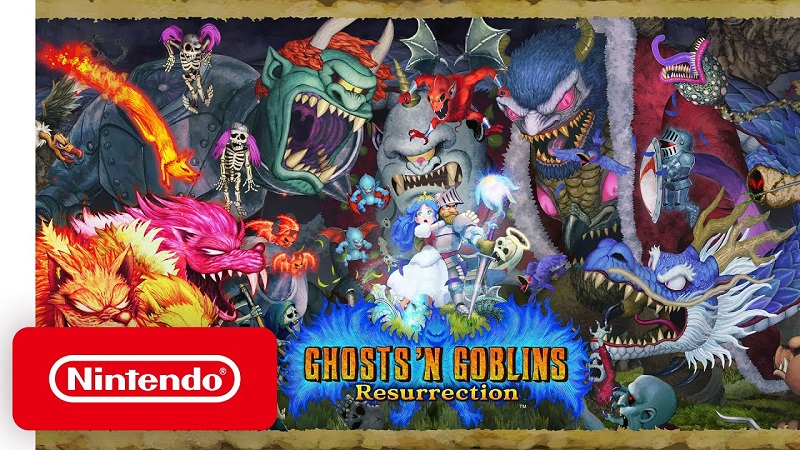 Now is as good a time as any to resurrect an absolute retro gem from a bygone era. At The Game Awards 2020, Capcom announced they will be bringing Ghosts 'n'Goblins Resurrection to the Nintendo Switch early next year. After more than 35 years, this classic spooky platformer will be leaping its way onto current hardware for fans of old and new.
Here's what Capcom had to say about it:
The legendary platforming series rises again, as Ghosts 'n Goblins Resurrection marks the heroic return of the series, which debuted over 35 years ago. Paying homage to Ghosts 'n Goblins and Ghouls 'n Ghosts, the latest entry combines the franchise's action platforming gameplay with storybook-like graphics and challenging new obstacles.

The new entry will once again follow the valiant knight Arthur as he runs, jumps and battles his way through eerie stages set in the Demon Realm, a demonic fantasy world. Arthur must overcome countless ghoulish foes on his quest to rescue the princess from the treacherous grasp of the Demon Lord. Brave knights will need to proceed with extreme caution as terrifying dangers await, including familiar enemies like Zombie, Skeleton Murderer, Pigman and Red Arremer.
Resurrection is a polished, up-to-date reboot of the original which has gone down in history as one of the most difficult games of all time (second only to Battletoads). Will this one be just as hard as the classic version that lots of us lost many-a-controller over? Only time will tell.
The release date for the digital version is set for February 25th, 2021 for North America and Europe. Not only that, but Capcom has also announced Arcade Stadium, which brings 32 classic games to the Switch, such as Street Fight II Turbo, Bionic Commando and a free download of 1943 – The Battle of Midway. Arcade Stadium will also be released sometime in February 2021.
Check out the Ghosts 'n Goblins Resurrection trailer below.