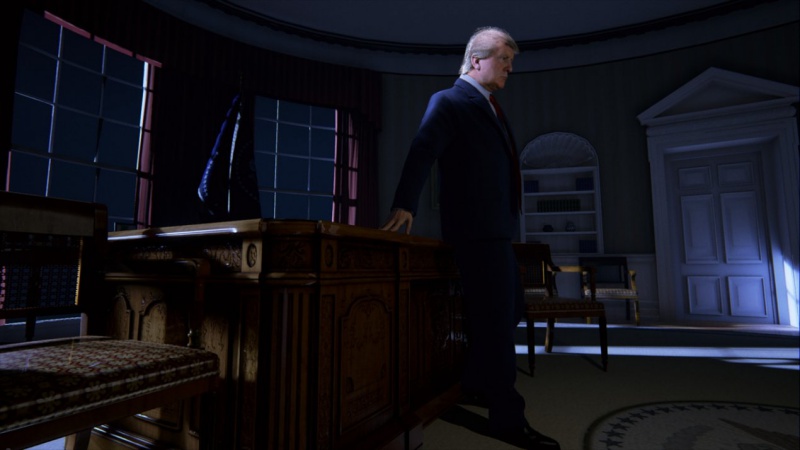 Automatophobia is the fear of human-like objects that just seem slightly off. Generally, triggers are things like ventriloquist dummies or celebrity wax sculptures. People who suffer from that disorder might want to just skip the rest of this article, and go spend the rest of the day as far from this uncanny valley as possible. But if that particular phobia holds no fear for you, then we've found something that might put your resolve to the test.
Available on the Vive website, Trump in VR: "Wide Awake" is a short virtual reality experience that will let you get up close and personal with the orange-hued President himself, just in time for Presidents Day.
From the developer via the game's Vive page:
"We see Trump In VR as art – a tableau vivant, in the American tradition of artists like Edward Hooper in painting, Gregory Crewdson and Cindy Sherman in photography. Unlike a painting and photography, you can interact with the art in virtual reality."
To recreate a historical setting or figure in VR with the accuracy of a painting is certainly a noble goal. But with this particular recreation, something feels incredibly off. Players are dropped into the Oval Office in the middle of the night, in complete darkness. With only a flashlight to navigate, the only other figure in the room is Trump, standing stoically, cast in moonlight. It's understandable he's having a hard time getting sleep; I'd have trouble too if I was being investigated for treason.
If you have the stomach for an midnight rendezvous with what the developer calls "the most photo realistic human you will see in VR today", you can check out Trump in VR via the Vive website right here.