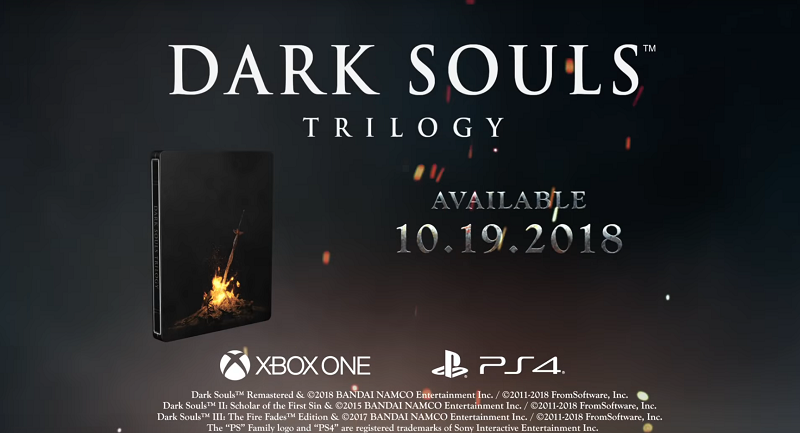 If you like Dark Souls, collections of games, and steelbooks (I don't understand this one) than Bandai Namco has something for you! The Dark Souls Trilogy will be making its way to PlayStation 4 and Xbox One. (Insert Dark Souls reference here).
Announced at Gamescom 2018, the Dark Souls Trilogy will include Dark Souls: Remastered, Dark Souls 2: Scholar of the First Sin, Dark Souls III: The Fire Fades Edition, and all of the DLC released for each title. There will be a physical edition of the collection for $79.99 USD, but it will be in short supply. Unlike other collections in the same vein, the Dark Souls Trilogy will come on three-discs. Adding a cherry on top, the trilogy will come packaged in a gorgeous steelbook featuring artwork from each title included.
Some bad news for those in Europe though. In an official statement from Bandai Namco, they revealed that the trilogy will not be coming to Europe. It will only be available in America and Asia.
To clarify, the Dark Souls Trilogy release date announcement yesterday (August 21st) was a US and Asia annoucement only, and was not a Gamescom announcement in Europe.

Dark Souls fans in Europe can still get their fix on October 19th – with the release of Dark Souls: Remastered for the Nintendo Swich console.
The Dark Souls Trilogy will be available on October 19, 2018, for PlayStation 4 and Xbox One.