Gamescom 2018: Behold the Terror of Rats, War, and Pestilence in A Plague Tale: Innocence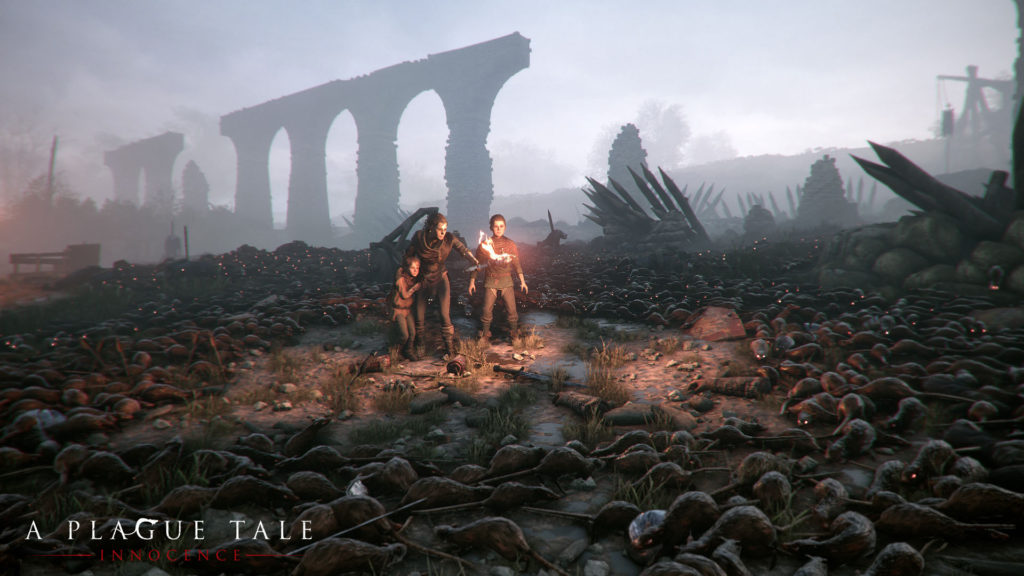 The terrifying reality of rats, war, and pestilence engulfs the newest gameplay trailer from A Plague Tale: Innocence. Asobo Studios situates the horror on display into something truly palpable. A Plague Tale Innocence reveals "an emotional journey through the 14th century France, with gameplay combining adventure, action, and stealth, supported by a compelling story. Follow the young Amicia and her little brother Hugo, who face the brutality of a ravaged world as they discover their purpose to expose a dark secret. On the run from the Inquisition's soldiers, surrounded by unstoppable swarms of rats incarnating the Black Death, Amicia and Hugo will learn to know and trust each other as they struggle for their lives against all odds."
The trailer shows Amicia, her brother Hugo, and a young boy named Lucas on a foggy lake sailing towards an aqueduct. Lucas speaks of a blood disease that is potentially causing the deaths in France. (Lucas isn't too far off, as we now know…the rats were only an incubator for the disease, but the fleas they carried were the true culprits—and lice.) Hugo appears to be showing the effects of the disease, with his sickly pallor and lethargy. This gameplay trailer is available in 4K and it shines with detail, such as flies that buzz aimlessly and the sheen on rocks near the riverbanks. The true highlights of this trailer are the relentless hordes of rats. The physics engine that Adobo Studio uses for them is truly something else; it reminds me of the new zombie physics in Days Gone or World War: Z.
A Plague Tale: Innocence is not for the squeamish as Amicia, Hugo, and Lucas traverse a battlefield littered with the bodies of the dead and the dying—even walking upon them like a carpet. One truly disgusting encounter shows them face-to-face with a bloated horse that explodes with rats. Soldiers and scavengers are the primary antagonists in this trailer, besides the rats, so Amicia uses the environment and a slingshot as her primary weapons. A special shoutout to that slingshot. It's a really cool ancient weapon that we haven't seen enough in modern video games.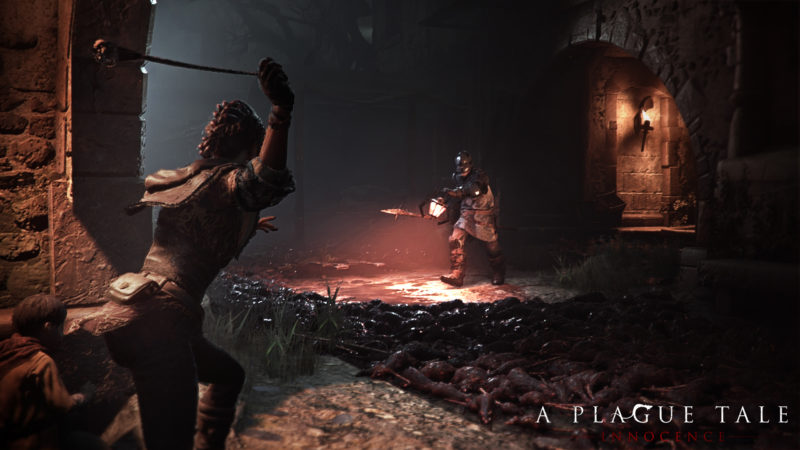 The character intertwines puzzle solving and stealth that ensures she and her young companions make it to a safe point on the outskirts of the battlefield. There's also a white light detection system on the edges of the screen that shows whenever Amicia is within eyesight of any enemies. She uses the remaining dead bodies, unwitting soldiers, trebuchets, rocks, flames, and even the vermin themselves to get them all to safety. This gameplay trailer drips with atmosphere, peril, terror, and gloom, and I can't wait to see more.
Aw, Rats! A Plague Tale: Innocence scurries onto PC, PS4, and XBOX ONE in 2019.
72386
true
false
true
false
true
true
false
auto
false
ease-in-out
300
auto
false
0
true
false
%curr% of %total%