Gamescom 2017: New Metal Gear Survive Details/Images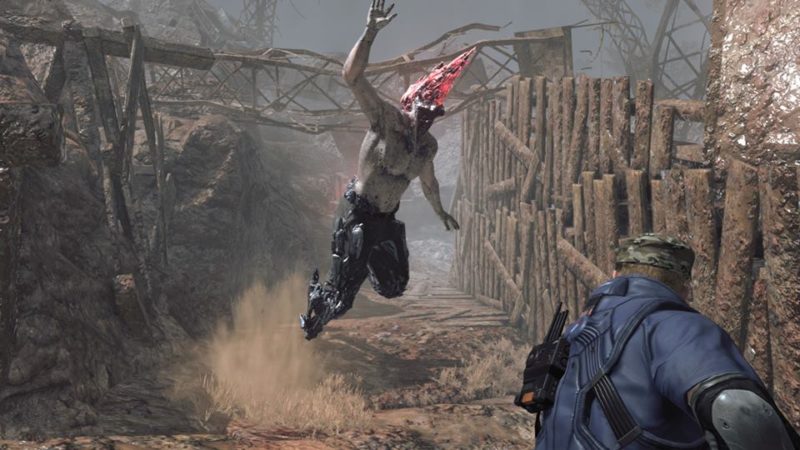 Huh, yeah, I guess this game really is happening.
There'd been such a long gulf between announcement and new information, I'd honestly started to suspect that Metal Gear Survive, the zombie survival game set in the MGS universe and built using MGS5's engine (making it possibly the last thing to be made in Kojima's incredible Fox Engine) is really happening. We got a much more detailed look at Survive today at Gamescom, most notably about how the game will function in single player as well as co-op, and how it will be retaining MGS5′s base building concepts.
Instead of focusing on building up your perfect Mother Base (as we did in both MGS5 as well as Peace Walker), we'll be hunting through the world for resources in order to build up our "Base Camp", which is where we will craft new weapons, gear, and select what missions we'd like to embark on. For the most part, it honestly does sound more or less the same as MGS5's system, just with more of a "survival" spin on everything (like one of the resources being farming, water and food). Of course, we won't be playing as Big Boss, or any Snake for that matter (a series first, I believe- even Raiden temporarily went under the code name of Snake).
There's also a couple of new screenshots, showing off the base building mechanics, combat, and character customization. It's interesting to note the original Mother Base's wreckage behind the "Base Camp". We'll keep you updated, as the game still isn't out until next year.
65610
true
false
true
false
true
true
false
auto
false
ease-in-out
300
auto
false
0
true
false
%curr% of %total%
[Source]