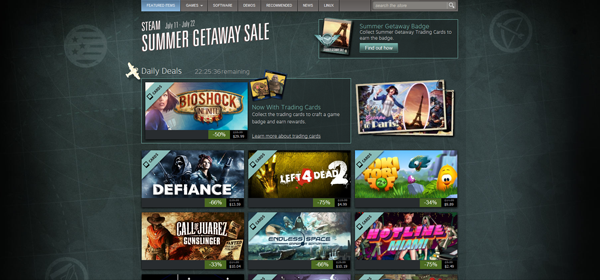 No PC gamer doesn't know about Steam's big yearly sales. This year is not to be missed with the first day already yielding some awesome deals. Steam launched its summer sale earlier today and their servers began experiencing overload in no time. The demand may prevent you from reaching the following deals, but hold tight. Bioshock: Infinite is going for $30, Hotline Miami is selling for the price of a bagel($2.49), Left 4 Dead 2 for $5, and Lone Survivor is also just a measly $3.39!
Attempting to view or purchase/download any games right may give you the following message:
"Sorry The Steam Store is experiencing some heavy load right now. Please try again later. Error 503 Service Unavailable XID: 920714837"
As long as you're not desperately trying to catch a timed sale, the unstable system is kind of amusing. It's a testament to the booming PC gaming industry and relentless search for decent prices that gamers constantly go through. Steam seems to be working hard on it as we speak, as the chances of connecting seem to be improving. The games I've listed above will be available once server load mellows out, so just hang in there!
[Source]