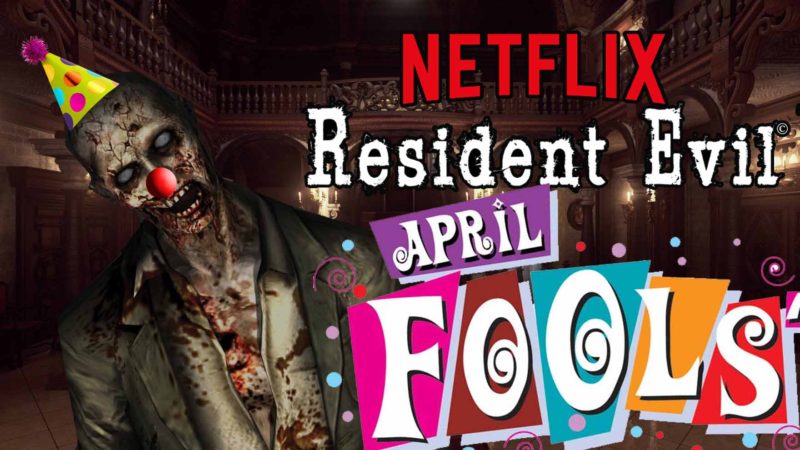 Update: Sorry everyone, this was our April Fool's post. A couple of you saw through it faster than I was expecting, but nevertheless, it is what it is. I'm sorry to say that any rumors of a Resident Evil series coming to Netflix, which started a little over a month ago, are pretty much all total BS, which is why I decided to do this as our annual April Fool's post. In case you're interested, here's the original video I shot, without the crowd reactions and Handycam stuff overtop of it. It's actually mostly just video of my Father in law's house, mixed with footage from Blue Velvet, random YouTube videos, and a fan-made Unreal 4 demo of the Spencer Mansion. The music in the trailer is the incredible Go Tell Aunt Rhody remix by Mono Memory, make sure to go and give that guy some love, regardless of how you felt about our little prank. Cheers, and until next year, true survivors!
Original post: A few weeks ago, news outlets began reporting that a Resident Evil Netflix series was in the works, and would be directly adapting the games, rather than being a tie-in to the Paul W.S. Anderson film universe (which recently saw a conclusion with January's Resident Evil: The Final Chapter). While I was extremely skeptical (mostly due to a lack of sources and the only image given being a photoshopped poster from 2003's The Haunted Mansion starring Eddie Murphy), an industry source who recently attended a behind-closed-doors presentation at SXSW contacted us with a treasure trove of information, confirming the Netflix series, as well as revealing a few details. First of all, there's the trailer, which is absolutely amazing.
Seriously, the attention to detail in that was incredible. It looks like they've built a full Spencer Mansion set as well, basing it off of the REmake version of the location. I cannot wait to see more of it, and hopefully, we'll get a clearer version of the trailer soon, without the crowd shouting over it. Next up, showrunner Shawn Levy (a producer on Netflix's series Stranger Things) got up on stage to give some details on the series.
The first season will cover only the original Resident Evil and will span six episodes. It will also be expanding on the original story, beginning slightly before where the game does, giving us a look at how the Raccoon City S.T.A.R.S. operated, and there will also be a few flashbacks showing how these characters interacted with each other before the horrific events of the game (which is super intriguing to me; it's something I've always wanted to see), including a Halloween Party at the RPD building, Chris leaving his childhood home to move to Raccoon that will feature a cameo from Claire, and Barry spending time with his family.
The series is being co-produced by Paul W.S. Anderson, although he's taking a hands-off approach to the story (something I think we can all be very grateful for), and the first and last episodes will be directed by a surprise veteran director (although Levy wouldn't say who). Levy then went on to announce the cast, and it's actually surprisingly great.
Jensen Ackles as Chris Redfield (Supernatural)
Gillian Jacobs as Jill Valentine (Love)
David Harbour as Barry Burton (Stranger Things)
Kiernan Shipka as Rebecca Chambers (Madmen)
Micheal B. Jordan as Albert Wesker (Fantastic Four)
Alycia Debnam-Carey as Claire Redfield (Fear The Walking Dead)
Clancy Brown as Brian Irons (StarShip Troopers)
I have to say, I'm actually kind of floored by how much I like the casting. I recently saw Gillian Jacobs in Love, also on Netflix, and really loved it.
Sometimes, things sound too good to be true, but this is one case where random unreliable indie sites, fan-boy wish fulfillment, and fantasy casting turned out to be real! I'm loosing my mind, and I cannot wait to hear more! Netflix did not issue a confirmation at time of publication.