The Evil Within 2's Mobius Sent Me Some Weird Stuff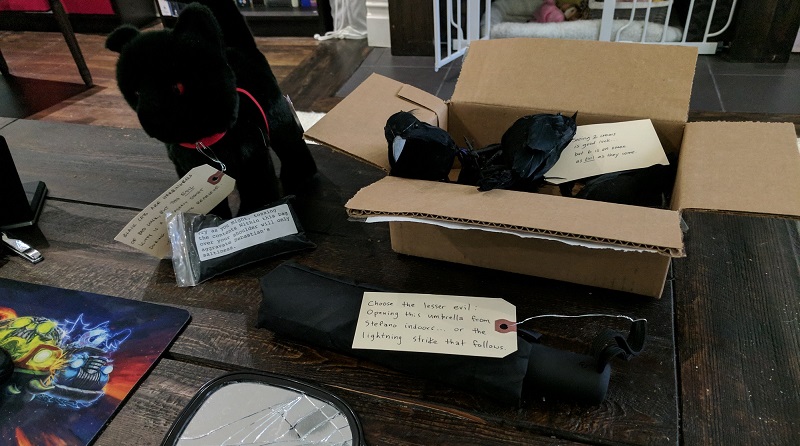 The Evil Within 2 launches in just five days, and as we approach that date it appears one (or more) of its characters have some oddities to share. I was on vacation up until today, so when I returned home I found several packages from Mobius, the fictional organization behind the virtual world creator STEM, in my lobby. The from location also listed Union City, the setting of the sequel.
My creepy packages included various items from Mobius with some references to Stefano, an in-game baddie and artistic murderer that appreciates the framing of a good kill (and the ensuing misery). The series of items includes: a broken hand mirror, an umbrella, a box of plastic crows, black salt (I think, because I'm not sure if I should taste it), and a black cat plush. Each item includes a small note about the item's relevance or symbolism within STEM. As Detective Oda, I'll have to investigate what this means.
Creative marketing is always interesting to see, even if it results in me having things I have no need for in my home (like a broken mirror or plastic fingers). But hey, plushies are great. This cat can sit alongside my other soft game monsters. For a full look at the items, see the gallery below.
Update: A black candle arrived today (10/9). This is quickly becoming a goth starter kit.
Update 2: Three more things have come in: a photograph, a bell, and a cat calendar with all of the cats given red eyes…
66671
true
false
true
false
true
true
false
auto
false
ease-in-out
300
false
0
true
false
%curr% of %total%