E3 2018: Second Resident Evil 2 Remake Trailer Shows Off Gameplay, Gore, and … Fixed Camera Angles?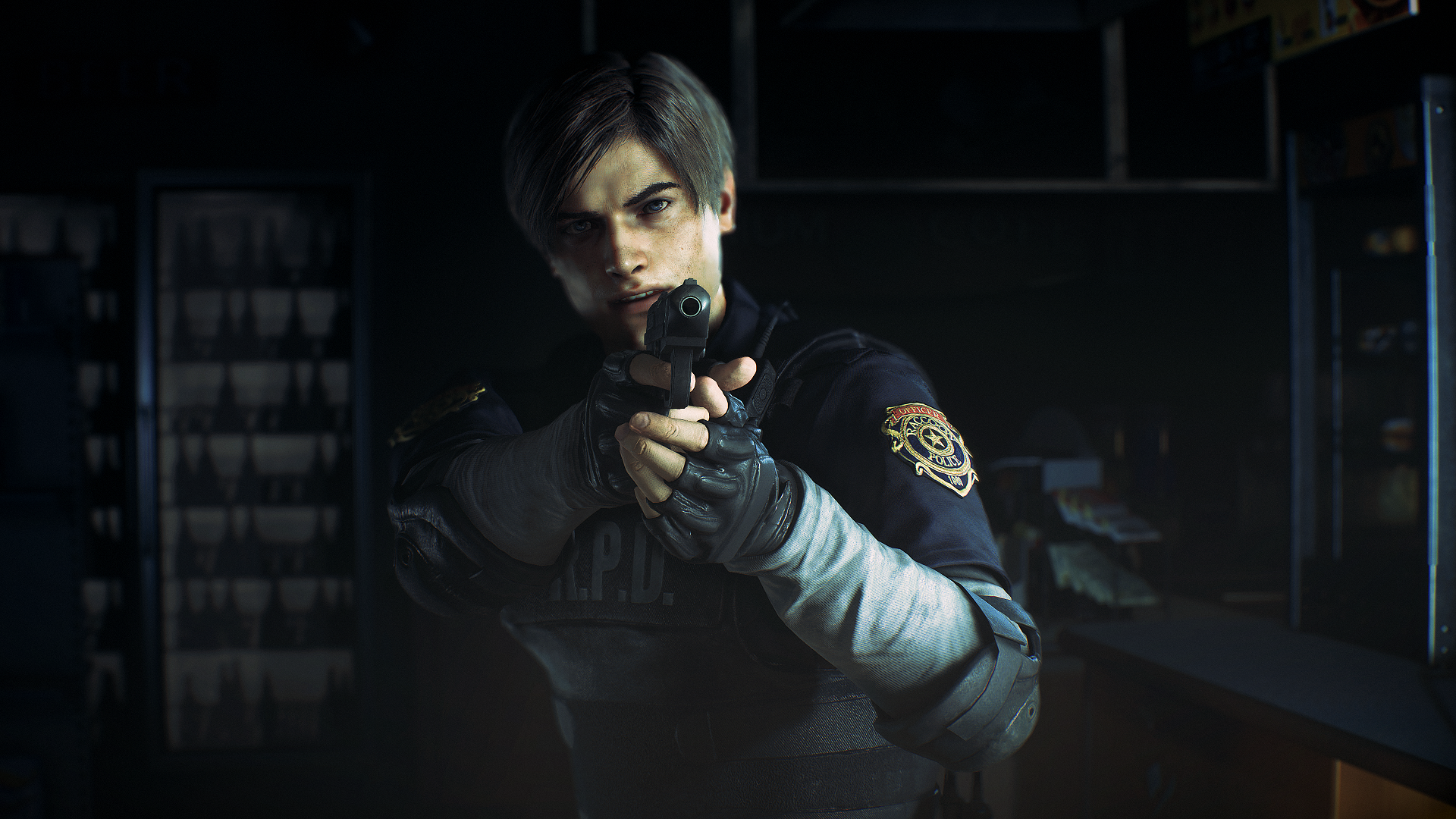 Holy shit holy shit holy SHIT
Another trailer for REmake 2 (Resident Evil 2 Remake) just dropped and it's even better than the stage show one, showcasing viscous-looking combat (which looks surprisingly similar to the fan created RE2 remake from a few years ago), a blood soaked and redesigned RPD station, and… are those different camera styles I'm seeing at 01:35? I'm not crazy, right? That was, for sure, showing over the shoulder, first person, and at the very end FIXED CAMERAS, right? FUCK.
There's also a press release and new screenshots:
 At the Sony Interactive Entertainment (SIE) E3 press conference today, Capcom, a leading worldwide developer and publisher of video games, unveiled the first look at the new Resident Evil® 2, one of the most highly anticipated games of all time. Based on the original genre-defining masterpiece, the new game has been completely rebuilt from the ground up for a deeper narrative experience. Using Capcom's proprietary RE Engine, Resident Evil 2 offers a fresh take on the classic survival horror saga with breathtakingly realistic visuals, heart-poundingly immersive audio, a new over-the-shoulder camera, and modernized controls on top of gameplay modes from the original game. Resident Evil 2 brings its reimagined brand of horror to the PlayStation®4 computer entertainment system, the Xbox One family of devices including the Xbox One X and Windows PC on January 25, 2019.

As one of the most influential and critically acclaimed video games of all time, the original Resident Evil 2 introduced some of the most memorable experiences and characters in the long-running Resident Evil franchise, which has sold over 83 million units worldwide. Originally released in 1998 on the PlayStation® console, the game continued the storyline of the first Resident Evil® and embodied the action, tense exploration and puzzle-solving gameplay that defined the series.

Resident Evil 2 introduced characters who would go on to become some of the most iconic and beloved heroes in Capcom's history: rookie police officer Leon S. Kennedy and college student Claire Redfield, who are thrust together by a disastrous outbreak in Raccoon City that transformed its population into deadly zombies. They must work together to survive and get to the bottom of what is behind the terrifying attack. Both Leon and Claire have their own separately playable campaigns, allowing players to see the story from both characters' perspective.

Twenty years later, the new Resident Evil 2 sees the nightmare return, now with unprecedented levels of immersion as seen in last year's acclaimed Resident Evil® 7 biohazard. With Capcom's proprietary RE Engine powering a new photorealistic style, the characters themselves appear sharper than ever and the grotesque hordes of zombies are brought to life with a horrifyingly realistic wet gore effect. Zombies now react in real time as they take instant visible damage, making every bullet from the player count. Stunning lighting brings the familiar rooms and corridors of Raccoon City Police Department to new life. Players will feel they're in the shoes of heroes Leon and Claire, terrified to step out of the light for fear of what flesh-eating nightmares might await them in the darkness.

"The press and fan reaction to Resident Evil 2 when we said 'We Do It' in 2015 has been overwhelming. We've been very eager to unveil the new game to the world this week," said Capcom Producer Yoshiaki Hirabayashi. "We want fans to see the reimagining of Resident Evil 2 not only captures the magic of the beloved original, but also expands it to deliver a richer experience. The first look at E3 is just a taste of what's to come."

Attendees at this year's Electronic Entertainment Expo (Los Angeles, June 12-14) can get an early preview with the first hands-on demo opportunity for Resident Evil 2 at Capcom's booth in the South Hall, #2223. There, they can experience a completely new take on one of the most iconic moments in the Resident Evil® franchise – joining Leon on his first day on the job at RPD as he explores the station for clues on how to make it out of this nightmare alive.
The game is already available for pre-order on Amazon, Xbox One, and PS4, and I'm sure a Steam page for it is just around the corner. PlayStation Blog also got into some more details, writing about how this is (obviously) way, way more than just a "remake", but a straight up RE-imagining. They even compare some screens from the original RE2 to the new versions, and the comparison is amazing. Detailing the new, extremely gory action of REmake 2, they compare how (in the original game) the shotgun was capable of blowing zombies in half. This level of shocking gore is being not only retained, but expanded upon with a new gore system that shows each and every shot impacting and actively dismantling the undead (you can even see parts of it in the trailer and screens, as Leon blows off limbs and bullets rip big, ragged holes through the zombies). They also go on to talk about Leon and Claire's separate stories, which will of course be separate campaigns, as well as how we'll be seeing returning modes from the original game (I'm assuming things like 4th Survivor).
On top of this, the Japanese website for RE2 went up, with more fun details, describing how Raccoon City has been redesigned, and the feel of RE2 designed to feel both nostalgic and new, calling it a "tragedy of terror". Surprisingly, the English site isn't up yet, but I'm sure it's coming soon.
Jesus guys. I'm losing my mind. I really don't think I've ever been this excited. This is so much bigger than RE7 for me. FUCK.
70474
true
false
true
false
true
true
false
auto
false
ease-in-out
300
false
0
true
false
%curr% of %total%