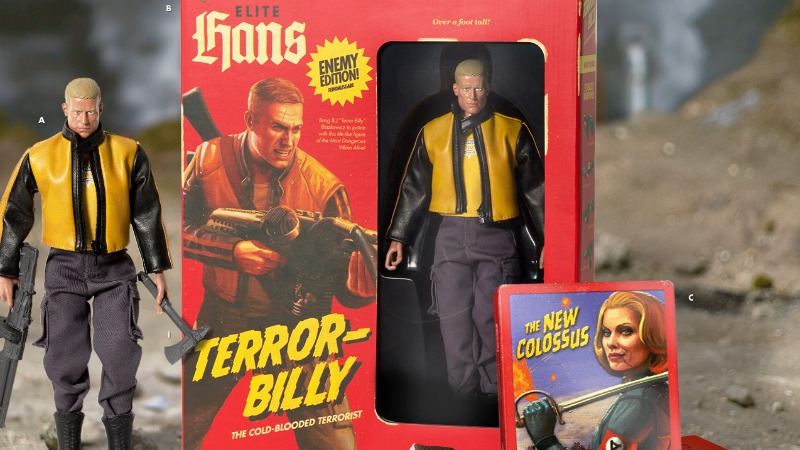 After last night's announcement of Wolfenstein II: The New Colossus at Bethesda's E3 showcase, it only makes sense that Bethesda would want to keep the hype train rolling. Today Bethesda announced a collector's edition for The New Colossus, and it is certainly one to look out for.
The collector's edition comes with a 12-inch retro B.J. Blazkowicz, styled after 1960's action figures and presented in a time-period appropriate box. With four guns and a hatchet to switch between, as well as different outfits to change into, the figure offers a lot of variety for display. Aside from the impressive figure, Wolfenstein II's Collector's Edition also includes a copy of the game, a steelbook case, and a poster.
Alongside the announcement of The New Colossus's collector's edition, Bethesda has also released a retro-style trailer that plays out like an old G.I. Joe commercial, only with a lot more emphasis on Nazi indoctrination. It's a good bit of fun that's consistent with the tone of Wolfenstein II's marketing so far, and also shows some gameplay towards the end.
The full collector's edition will go for $99.99 USD, and is available for pre-order now from Bethesda's website. You can check out the full trailer down below, and get all the details directly from Bethesda's website here.