Doom Eternal Has Some Fascinating Customization Options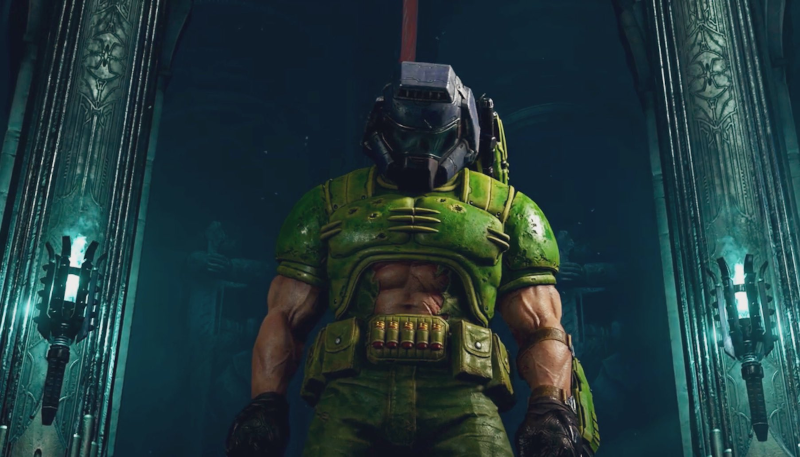 Doom Eternal's release is just on the horizon to the excitement of many, and among the various new features on the way is the enhanced level of player customization. We've known since PAX East that Doom Eternal will have expanded multiplayer customization options. However, it appears that character customization will no longer be limited to multiplayer.
As demonstrated in the accompanying trailer, there are some pretty sweet looking items among the catalog. Some sets of armor are primarily color palette swaps while others rock cool effects like flaming legs and arms. Bethesda has also thankfully heard our cries as we now know that we will be able to use the original Doom Guy outfit — with bulging, glorious abs — as seen in the original releases' cover. It is unknown to what extent outfits can be customized. Hopefully, we will have the option to change entire color palettes and specific pieces of armor, but it's entirely possible we'll merely have a collection of alternate costumes.
While a lot of these cosmetic items are neat, I can't help but worry about the implications of all these pre-order bonuses and service exclusive items are, especially since there are a lot for this game. Typically, things like alternate costumes would be unlocked through some form of in-game achievement (such as completing the game or finding all the collectibles). Despite the lack of visual customization, Doom (2016) did a fantastic job of regularly rewarding the player for doing well in addition to exploring the game world. With the introduction of character customization, it only makes sense that there would be plenty of items rewarded for in-game accomplishments. It would be quite frustrating if the coolest piece of armor was locked behind a Bath & Body Works membership rather than a reward for an Ultra Nightmare playthrough.
With that said the Doomicorn Master Slayer Collection, which includes the unicorn-themed armor set you can see in the video below (as well as various other My Little Pony inspired multiplayer items) is only obtainable through linking one's Bethesda.net account with the Twitch Prime service. This offer will be available until April 21st, so be sure to take advantage of that while you can.
Doom Eternal launches on March 20th for Xbox One, PlayStation 4, and on Steam.