Death Stranding Pre-Order Live, Bonuses Revealed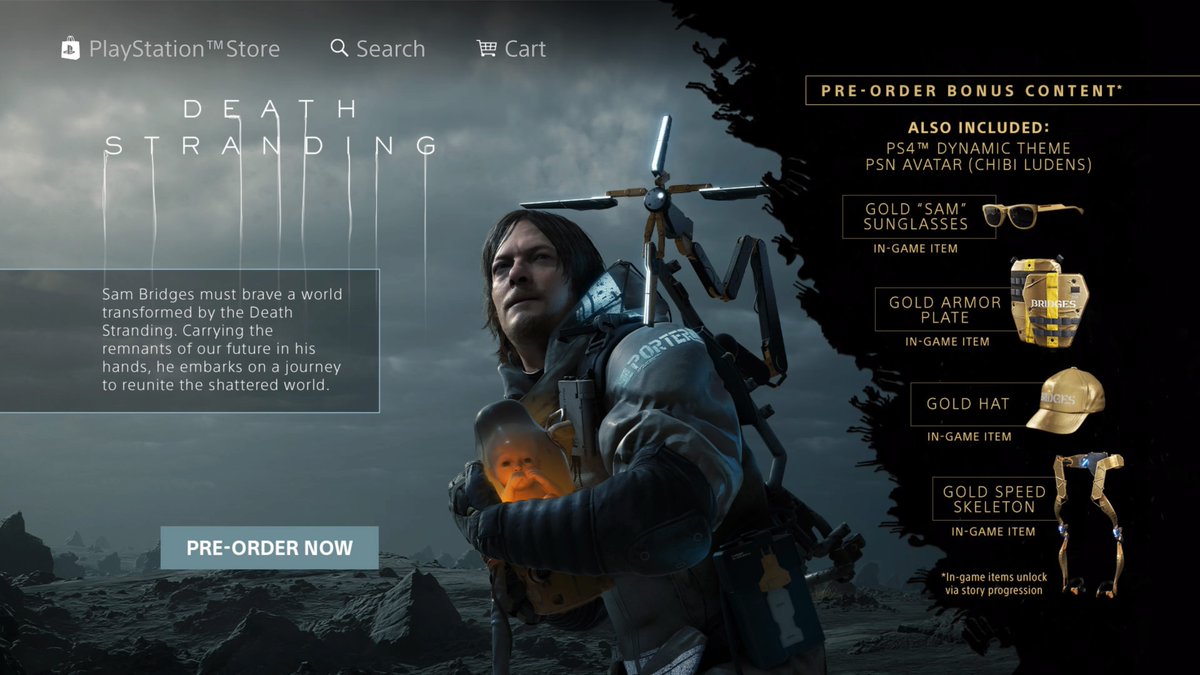 I feel like this is a bit ahead of schedule here, as Death Stranding had been making some major teases for the last day or two about how something was coming today. Just as I was about to go to bed, low and behold the preorder page for the game has gone live on PS4. Including a (very, very) brief and (very, very) vague synopsis, we get a look at some in-game items we'll get for preordering! There's uh… there's still no actual date yet, but being available for preorder would suggest soon? Right? (Note: Dead Island 2 has been available for pre-order since the day it was announced five years ago).
Direct feed image of the Death Stranding preorder screen on PSN https://t.co/mqljnNJrCW

— Wario64 (@Wario64) May 29, 2019
The in-game items are somewhat interesting, in so far as none of them seem to be… well, useful. I don't mean in terms of gameplay, as a lot of games basically just have cosmetic content as a pre-order perk (nearly all of MGS5's preorder content was cosmetic). Rather, I mean that they still aren't giving us much of a window into what the hell Death Stranding is and it's shit we'll actually use in the game. None of these are weapons (well, presumably — I don't picture Sam going all Oddjob with that baseball cap), and we can only assume that the thing that looked like a gun in the E3 2018 trailer was actually a gun since all he does is unfold it. Decking ourselves out in gold trim will certainly be flashy though. The Speed Skeleton is the only thing that seems to have any glimmer of information, as the name and design feel like they imply augmenting our walking/running speed. But who literally knows.
Presumably, a new trailer will drop at some point today. It's been three years since Death Stranding was first revealed at E3 2016, and I can count everything we know with absolute certainty about the game on one hand. One of those things is that Hideo Kojima is making it. We'll keep you updated either way, but God damn my dudes I just want to know the answer to something, anything at this point.