Dead by Daylight: Curtain Call DLC and Update Now Available on Consoles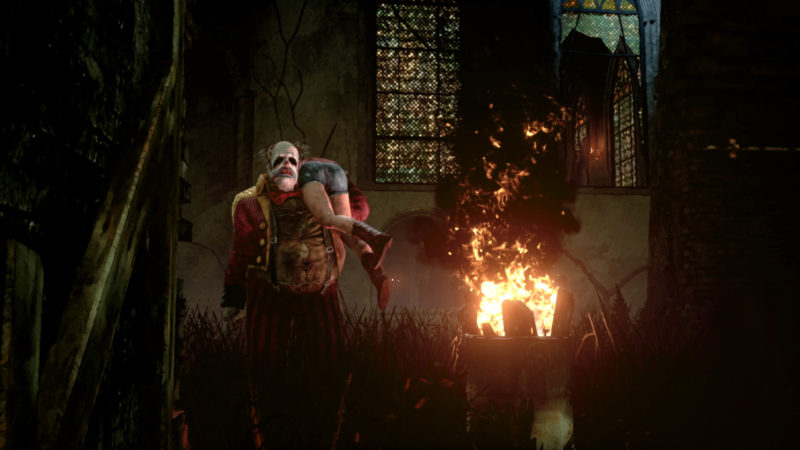 One of the things I'd never really been aware of until I got a PC is how far behind console versions typically are. Dead by Daylight's Curtain Call DLC, which contains a new killer, survivor, and map, released weeks ago for the Steam version, and just now is hitting the Xbox One and PS4 version of the game. The console versions have also received the new update, which changes the way cosmetics and characters are earned/purchased. From the press release:
Curtain Call was released to celebrate the two-year anniversary of Dead by Daylight. Players will get to meet our new killer, The Clown. We're excited to see how players deal with his intoxicating mechanics to capture survivors and put an end to their running.

Joining the survivor ranks is Kate Denson, a former singer, now trapped in a nightmare with the others. Can she outwit the killers to keep her fellow survivors safe?

If you are just joining us, step into one of our brand new tutorials as well. We have them set up on the Survivor and Killer sides of the game to help teach players the best way to live or die in Dead By Daylight.

Finally, you will be able to use our brand new in-game store on consoles as well to build your repertoire of cosmetics for all characters in the game. So console fans, welcome aboard, we have a horrific summer planned for you!
I actually haven't gotten the chance to try out the DLC, but I have played the updated version of the game, and I've been very pleased with it so far. CJ poopoos this game a lot, but if I'm being honest I've been addicted to it for months now. Bring on the next killer!