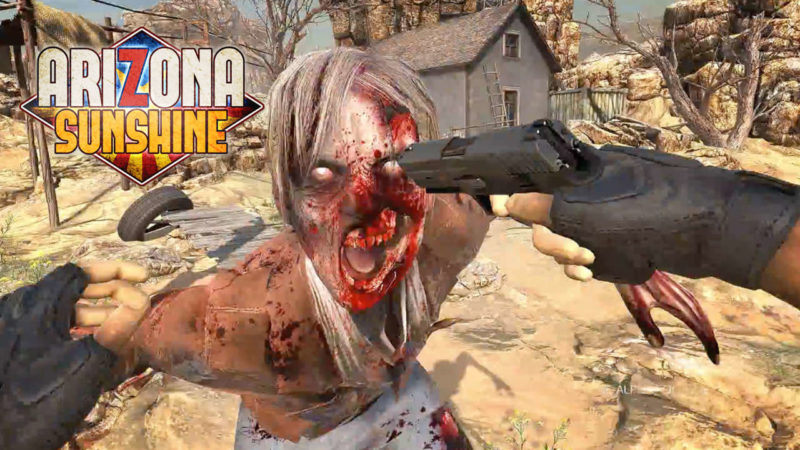 Hey, this is great news for us PSVR owners!
Arizona Sunshine, a zombie-shooter VR game from the PC world, is making the leap over to PS4's VR headset this June, and I couldn't be more excited! While there's a number of PC ports on PSVR already (The Brookhaven Experiment and Job Simulator come to mind), this one is mostly exciting because it's one of the first ones that's an actual campaign experience. While Brookhaven, Job Sim, Surgeon Sim ER, etc. all have stories, this one actually allows for free movement around the world (similar to Resident Evil 7) and exploration, rather than simply standing in one place and interacting with only what is within reach. Even better, this will be playable with not just PS move controllers or a regular ol' Dualshock 4 controller, it will also be compatible with PSVR's new Aim controller.
From the publisher's official press release:
Built from the ground up for VR, Arizona Sunshine is a full-feature game that puts you in the middle of a zombie apocalypse as if you were there. Embark on a journey in search of human contact across post-apocalyptic southwestern America in campaign mode, join forces with a friend in co-op multiplayer, or jump into the endless multiplayer Horde mode for up to 4 players.

On PlayStation®VR, use the DualShock®4 controller to freely explore Arizona Sunshine's VR world using teleportation or locomotion movement, and opt for optimal immersion with the new PS VR Aim controller or the PlayStation®Move motion controllers to handle your weapons, gear and consumables with real-life movements: anticipate attacks, manage ammo and aim down the sights to blast your enemies to undead pieces.
I'm also really excited to try a multiplayer VR game, as aside from the somewhat pedestrian experience of Eagle Flight, I've yet to try any. We'll keep you up to date for when the actual release date drops, and we'll let you know how it is with a review as well!