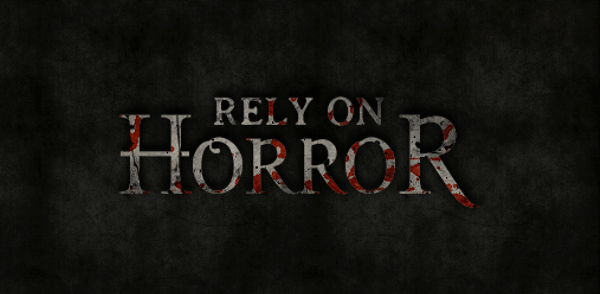 [UPDATE, June 15th]:
Thanks to your tremendous support over the past week we can now happily get back to normal business. As you may have noticed, we have a new ad partner again and have met enough donations towards the site to be worry free. What we decided to keep though, is the button within the "About" page. Any donation happening from now on will be put into a pool to be used by Rely on Horror's editors (review copies, travel expenses toward press event, etc.)
We were amazed by the quick financial help offered to us just minutes after our request. I'd like to thank every donator personally and invite he or she for a beer. Make sure you get in touch with me when if you're ever in Austria or any country nearby at any time in your life. 😉 For now, the whole ROH staff can breathe a huge sigh of relief because our predicament has been resolved. We can also take huge stride in knowing we have such awesome fans and reader out there!
THANK YOU ALL SO MUCH FOR YOUR HELP. WE LOVE YOU.
-Dom and the ROH team.
[ORIGINAL POST]
It's been a long, long time since we had to do something like this and I thought we would never have to do it again. Unfortunately circumstances have led us to ask for your help.
The sudden departure of our main sponsor/ad partner has us left behind without advertising and an income stream. We've invested a lot this year on behind the scenes hosting and our redesign. The streams we had were helping to cover some of those costs.  We're not bankrupt nor will the site close down its services, but your help would really be appreciated at this time.
The RoH team discussed ways to lessen our financial blow and found that generous donations from you, the loyal readers would help us a lot over this dry period. Instead of investing in annoying advertisement methods that will inconvenience our readers, we opted for asking for help and being as honest as possible with you guys about our situation.
The whole team contributes to this site because of a passion for what they do. Hours upon hours of their time is put into keeping this site filled with fresh and up to date content. This site was built and is maintained on that passion for the horror genre. The RoH has some of the most dedicated people I have ever met. I wonder how they find the time to put so much of themselves into their work here on the site.
Asking for donations or help is not an easy thing to do. Writing this post is not something I want to do. Since we've been doing so well with our content, this didn't seem like a concern but due an unfortunate event, here we are. If you want to help us out during this rough patch then feel free to click the donate button below. The button has also been added to our About page for future use. Any amount can help. We just want to lessen the blow of this sudden predicament that we are in. Hopefully you will understand how hard this is for us to ask. In the meantime we will continue to provide the content that you love.