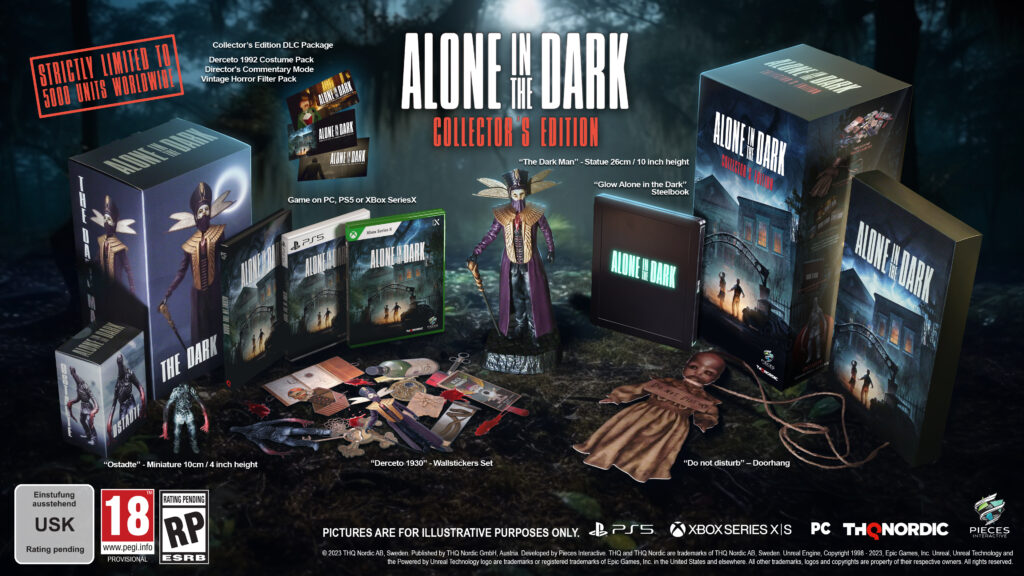 Today, THQ Nordic revealed a limited Collector's Edition of their upcoming revival of the genre-defining classic, Alone in the Dark. This special version of the game will be limited to 5,000 units worldwide and cost $199.99 (USD).
The Alone in the Dark Collector's Edition includes:
The Dark Man -Statue 26cm / 10in height
Game on PS5, Xbox Series X, or PC
Alone in the Dark Steelbook
Ostadte – Miniature 10cm/ 4in height
Collector's Edition DLC Package (Derceto 1992 Costume Pack, Director's Commentary Mode, Vintage Horror Filter Pack)
Do Not Disturb – Doorhang
Derceto 1030 Wallsticker Set
US players can pre-order the Collector's Edition for PS5 and Xbox Series X.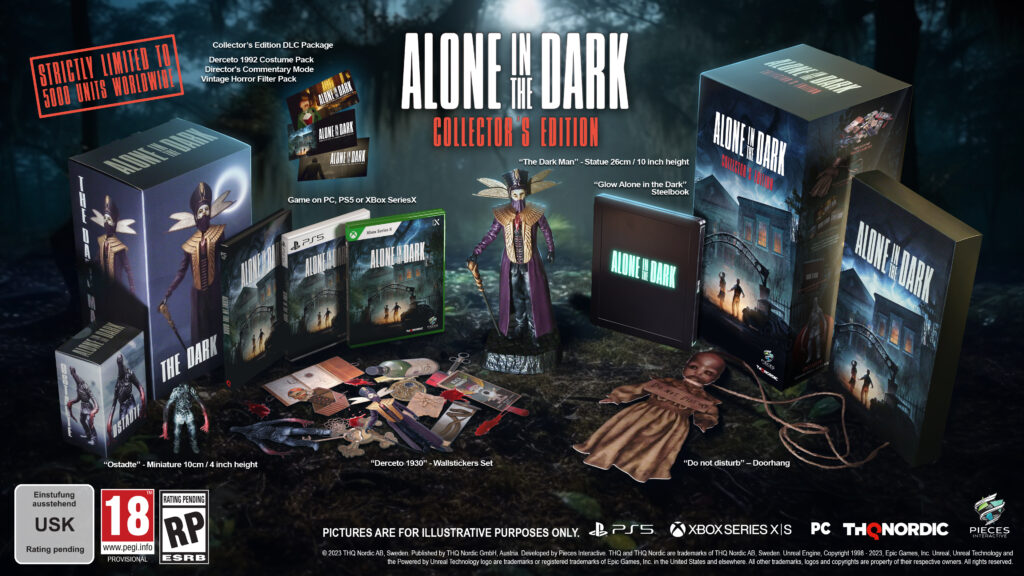 About Alone in the Dark


Explore Derceto Manor in this reimagination of Alone in the Dark, a love letter to the 90's cult classic horror game! Set in the gothic American South in the 1920s, Alone in the Dark features a noir setting with classical Lovecraftian horror elements, where the familiar meets the surreal.
Return to the roots of psychological horror and experience an atmospheric journey worthy of the game that started the genre.
Dive into a world full of sounds that make your skin crawl with a haunting, yet mesmerizing doom jazz soundtrack.
Enjoy the thrill of desperate survival in a world where reality starts to crumble, evil lurks in every shadow and ammunition is scarce.
Experience this nightmare from either Emily Hartwood's or Edward Carnby's perspective and unearth the dark secrets of a gothic mansion.
Immerse yourself in a deep psychological story that goes beyond the realms of the imaginable, by Mikael Hedberg, cult horror writer of SOMA and Amnesia.
For more info on the game make sure to check out the upcoming THQ Nordic Digital Showcase on August 11th, 2023 at 12 PM PDT / 3 PM EDT / 8 PM BST / 9 PM CEST / 10 PM EEST.
Alone in the Dark is developed by Pieces Interactive in Sweden and will release on October 25th, 2023 for PC, PS5, and Xbox Series for $59.99, £49.99, and €59.99.
You can watch the brand-new Collector's Edition trailer below.